I'm almost sure the most popular sport in the world and because of this they are playing it by men, women, boys, and girls.
Today we are here because we want to know the best girl soccer cleats. This is the main reason why I decided to make this post.
This article will discuss good girl soccer cleats, and you may find your favorite pair.
Whether your daughter is just starting in soccer or a seasoned veteran, having the right cleats will make a huge difference in her performance.
But with so many options on the market, it can be hard to know which ones are best for your child. That's why we've put together this guide to help you find the perfect pair of girl soccer cleats.
From fit and material to comfort and traction, we'll cover all the basics you need to know when shopping for girl soccer cleats. So read on and find the perfect pair of shoes for your daughter!
My Best Girl Soccer Cleats
What are the best cleats?
The best soccer cleats, for men, women, girls or boys, it doesn't matter, are ones in which we feel most comfortable. Quality is the second important thing I look at when buying new cleats.
After that, I know that the cleats are excellent and quality. I look at different colors and designs. Then I look at the price, and if anything is ok, I buy my favorite pair.
Read Next – Find Good Size 15 Soccer Cleats!
Do girls look a lot for colors?
I was thinking, do girls pick girl soccer cleats based only on their appearance? Maybe some, yes, but I hope many of them no :D.
They should first focus on cleats' quality and comfort and then on colors and designs. However, today there are tons of soccer cleats on the market, so you can most times find them in your perfect shade.
Suppose you have problems choosing cleats to check how to select the best soccer cleats.
I also mentioned that a soccer player should have more than just one cleat in many posts, so check what cleats should every soccer player have if you didn't yet.
Read Next – Find which are good cheap women's soccer cleats!
Want to pick them with a specific budget?
Are you searching for girl soccer cleats, and you want to get them, but you have a certain amount of budget you want to spend?
That is ok, and you can look for cheap soccer cleats. I also posted on affordable women's soccer cleats if you are interested.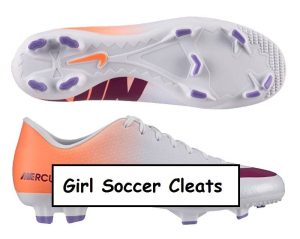 Here is a thing I have to say from my experience. Most times, the cheap soccer cleats are not so quality & comfortable, and they can be torn quicker than those which are more costly.
As I said above, I am on comfortable and quality soccer cleats, so I recommend you think twice before buying those cheap ones. If they are not qualified, they can also damage your feet.
I bought many cleats, which are cheap and costly, and I can say those more costly are better. With those cheap cleats, I got blisters, and my feet hurt after playing with them.
Is this enough?
It is your choice to pick girl soccer cleats, but I have given you some good tips and will choose the best pair of girl soccer cleats.
When you buy them, you should also take what you should do when you purchase new cleats and tips so your cleats will last longer.
What to Look for When Buying Girl Soccer Cleats
When looking for the perfect pair of girl soccer cleats, it is important to consider the player's position, foot size, and playing surface.
Different positions require different types of cleats, and it is important to get the right type. For example, forwards need light-weight cleats that provide good traction for quick starts and stops.
Midfielders need versatile cleats that offer support and traction on natural and artificial turf. Defenders need durable, sturdy cleats that withstand hard tackles and rough play.
Foot size is another important consideration when shopping for girl soccer cleats. Cleats should fit snugly and support the foot without being too tight or loose. It is also important to make sure that there is enough room in the toe box so that the toes are not cramped.
Playing surface is another factor to keep in mind when selecting girl soccer cleats. Cleats designed for artificial turf have shorter studs that provide good traction without damaging the turf. Cleats designed for natural grass have longer studs that help grip the ground and prevent slips and slides.
Now that you know what to look for when shopping for girl soccer cleats, check out our selection of top-rated girl soccer cleats!
Vizari Youth/Jr Stealth FG Soccer Cleats | Soccer Cleats Boys | Kids Soccer Cleats | Outoor Soccer Shoes | Pink/Black 13
4 new from $22.99
Free shipping
as of March 24, 2023 4:07 am
How to Care for Your Soccer Cleats
Assuming you've already found the perfect pair of girl soccer cleats, it's important to know how to take care of them, so they last as long as possible.
Here are a few tips:
Remove any dirt or debris from the cleats after each use with a soft brush or cloth.
If the cleats get wet, allow them to air dry completely before storing.
Use shoe trees or inserts if your cleats have removable liners. This will help keep the shape of the cleat and prevent creasing.
Store your cleats in a cool, dry place away from direct sunlight when not in use.
Soccer Cleats for Girls – A Buying Guide
If you're looking for the perfect soccer cleats for your little girl, you've come to the right place! This buying guide will give you all the information you need to ensure your girl is kitted out with the best footwear for her next match.
First and foremost, it's important to choose soccer cleats that fit well. They should be snug but not too tight and provide support in all the right places. You'll also want to ensure they're comfortable enough to wear for long periods – after all, a game of soccer can last up to 90 minutes!
It's also important to consider what material the cleats are made from. Leather is often considered the best option for durability and comfort, but synthetic materials can be just as good (sometimes even better). Make sure to pick something that's breathable, so your girl's feet don't get too sweaty during a game.
Finally, think about what kind of budget you have in mind. Soccer cleats can range in price from around $20 to $200.
It's important to find something affordable without sacrificing quality – remember, these are an investment that will last your child several seasons if cared for properly.
Now that you know all of this, it's time to start shopping around! Use our tips above to narrow your options and find the perfect soccer cleats for your little girl.
With the right pair, she'll be ready to take on the field in no time!
The Different Types of Cleats
There are three main types of girl soccer cleats:
Molded cleats have a hard plastic or rubber sole permanently attached to the shoe. These are the most affordable and easy-to-care-for option, but they don't provide as much traction or flexibility as other types of cleats.
Detachable cleats have a softer sole that can be removed and replaced. These offer more traction and flexibility than molded cleats but can be more expensive and difficult to care for.
Turf shoes have a flat, rubbery sole that is designed for use on artificial turf fields. These shoes provide good traction and stability, but may not be allowed on some natural grass fields.
So which type of girl soccer cleat is right for you? It depends on your budget, playing surface, and personal preference. Try out different types of cleats to see what works best for you!
The Benefits of Wearing Soccer Cleats
There are many benefits to wearing soccer cleats. They provide better traction on the field, which can help you make quick cuts and changes in direction.
They also protect your feet from injuries like turf toe and blisters. Soccer cleats can also improve your shooting accuracy and help you kick with more power.
How to Choose the Right Size and Fit
When it comes to choosing the right size and fit for your girl's soccer cleats, there are a few things you need to take into account. First, you need to know her foot measurement in both inches and centimeters.
You can find this information on a sizing chart specific to the brand and style of cleat you are interested in. Once you have her foot measurement, you must consider her preferred fit.
There are three different types of fits when it comes to soccer cleats: snug, comfortable, and loose.
Each type of fit has advantages and disadvantages, so you must know what your daughter prefers before purchasing.
If she likes a snug fit, then you will want to buy cleats that are slightly smaller than her foot measurement.
This fit is great for players who want close control over the ball and feel they perform better when their feet are more secure in their shoes. The downside to choosing a snug-fitting pair of cleats is that they can be uncomfortable and cause blisters if they are too small.
If she prefers a comfortable fit, you will want to buy cleats about half a size larger than her foot measurement. This fit allows for more movement inside the shoe and is ideal for players who want more breathing room.
The only downside to choosing a comfortable-fitting pair of cleats is that they may not be as secure as a snug-fitting pair.
Finally, if she likes a loose fit, you will want to buy cleats at least one full size larger than her foot measurement. This type of fit is perfect for players who don't want their feet to feel restricted and who want lots of freedom of movement.
The downside to choosing a loose-fitting pair of cleats is that they may not provide enough support or grip on the field.
No matter which type of fit your daughter prefers, it's important that you make sure the cleats fit properly when you try them on in the store.
If the cleats feel too snug or loose, then it's best to stick with your original measurements and look for a different brand or style of shoe that may fit better.
The Best Soccer Cleats for Girls
Soccer is a sport that requires a lot of running, so having a good pair of cleats is important. There are many different brands and styles of cleats to choose from, so it can be tough to decide which ones to buy. This article will help you find the best soccer cleats for girls.
When choosing soccer cleats for girls, it is important to consider the playing surface. If you will be playing on grass, you will need cleats with longer studs. These will provide better traction and allow you to change direction quickly. If you plan on playing on artificial turf, shorter studs are best as they will not get caught in the turf.
It is also important to consider the size of the cleat. Cleats should fit snugly and not be too loose or too tight. You should be able to wiggle your toes inside the cleat. If the cleat is too loose, it could come off during play, and if it is too tight, it could rub and cause blisters.
The style of the soccer cleat is also something to consider. There are low-cut, mid-cut, and high-top soccer cleats. Low-cut soccer cleats are lighter and offer more ankle mobility, but they may not provide as much support as mid-cut or high-top soccer cleats.
Mid-cut soccer cleats balance weight, support, and ankle mobility while high-top soccer cleats offer the most support and stability.
Finally, you should also consider the materials used in constructing the cleat. Leather and synthetic materials are popular for soccer cleats, but leather is generally more durable and offers better protection against water.
Synthetic materials are often lighter and more breathable but may not provide as much support or durability as leather.
No matter which type of cleats you choose, ensure they fit properly and provide adequate support for your feet. With a little bit of research, you will be able to find the best soccer cleats for girls that meet your needs.
Conclusion
Finding the perfect pair of girl soccer cleats does not have to be a difficult task. With these tips, you can make sure that your little girl has the best cleats for her feet and her sport.
Comfort is key in soccer shoes, and with a good fit, she will be able to play at peak performance while staying safe during practices and games.
Make sure she takes the time to try on different pairs so that you get the right size, weight, type of sole, features, and design for her needs.
Read Next – Where to get cheap soccer cleats?