There are many women and men in this world that play soccer.
To play it we need different equipment. We need to spend quite much on buying all this, but do we need to spend so much?
Today, I decided to write this article about cheap soccer cleats.
To play soccer, you need to use a variety of tools. And among that, the most significant device you will need in every play is the soccer cleats. But everyone can't buy an expensive soccer cleat. That is why people tend to search for places to buy cheap soccer cleats.
But in this process, they buy a cheap product or waste money on nothing most of the time. That is why, in this article below, we will provide you with every detail you need before buying a cheap soccer shoe for yourself.
If you are a beginner at soccer, you might not even know what it means to have soccer cleats. Our article below will explain everything you should know about them.
Cheap Soccer Cleats | Cheap Jerseys
Many soccer cleats have different brands, like Adidas, Puma, and Nike, which are expensive. Most times, they are good, but you can for sure find great cheap soccer cleats.
Do you need cleats for strikers, cleats for defenders, or do you have wide feet and you need cleats for wide feet?
This article will give you some tips on how & where to get cheap soccer cleats. You can also take a look at good women's cheap soccer cleats.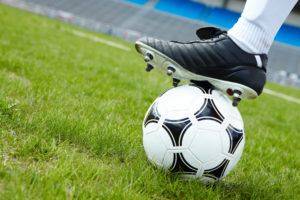 Are you finding low-cost cleats?
We all want cheap soccer cleats, but where to find them? If you buy locally, you can shop at the shop selling cleats. Another way is to ask the vendor when they will have sales.
An extra tip is that you get friendly with the vendor, and he might give you a discount. This is how I sometimes get good value when I go to the vendor that sells soccer cleats.
Buying at local stores is good, but I think it is time-consuming, and you might also spend money on fuel if the shop is not near your home, so I recommend buying online.
When searching online at a shop for your cleats, you are free, and you can compare, analyze & choose from different options.
There is also great because you might see comments and reviews about specific cleats somewhere, which might give you a different explanation.
Read Next – Which are the five best Adidas soccer cleats?
What is important?
When you choose cheap soccer cleats, you must select quality to last longer, and you will perform mainly on the pitch. This is harder when you are a local store, but you can still ask the vendor what he thinks and recommends to you.
When buying online, there are more opportunities to check the cleats' quality. You can do this by searching on forums, but I know one great tip that I will tell you. Tell him what type of cleats you need; he might help you.
You should look at reviews and comments on the store if they are available. You will find super info about the cleats.
Another great indicator is how many times a different pair of cheap soccer cleats was bought.
More times it was, there is a strong possibility that it is quality and people love it.
Read Next – Best Turf Soccer Shoes Buying Guide
Where to get cheap soccer cleats?
I recommend choosing them from verified online stores like Amazon.com, Soccer.com, ToDofut.com & SoccerBox.com.
I'm sure you will find cheap soccer cleats which you will like.
Above the table, I have also chosen my favorite pairs of cheap soccer cleats that I look at them. Maybe you like them.
I hope this article was helpful and that you found much different information so that you will share it with others through social media.
Read Next – Girl Soccer Cleats – Find the Best Pair!
TOP 5 SOCCER CLEATS IF YOU'RE ON A BUDGET!
Read Next – Best Cheap Soccer Cleats
adidas boys Goletto Vii Fg J Football Shoe, Core Black/Shock Pink/Shock Pink, 13.5 Little Kid US
as of September 23, 2023 10:45 am
LEOCI Men's Women's Firm Ground Soccer Cleats Outdoor/Indoor Boys Girls Professional Futsal Football Training Sneakers (8 M US Women/6.5 M US Men, Rose Red)
as of September 23, 2023 10:45 am
adidas Unisex Goletto VIII Firm Ground Soccer Shoe, Core Black/White/Red, 10 US Men
17 new from $39.59
3 used from $37.79
Free shipping
as of September 23, 2023 10:45 am
What Are Soccer Cleats?
Soccer cleats are a type of footwear that players wear during a soccer game. These footwears look just like other types of footwear, only with an addition of small protrusions on the shoe's bottom part, known as cleats or studs.
These cleats or studs provide traction or grip for the user as they continue to play and move around the playground.
Soccer players have been using these soccer cleats in games for more than 100 years now. However, soccer cleats have been upgraded, changed dramatically, and evolved.
So, as you now have a vivid idea of what soccer cleats are, let's see why players need soccer cleats. Is using soccer cleats mandatory?
Let's find out below…
Read Next – Best Cheap Football Cleats
Are Soccer Cleats Required for Soccer?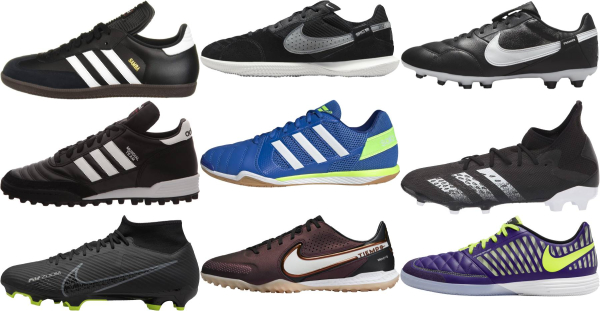 As you already know, what are soccer cleats, and why do players wear this now? Must you be wondering whether soccer players have to wear soccer cleats? Is it mandatory for them?
Surprisingly, the answer is NO. It isn't mandatory!
It isn't set or mentioned in the soccer game's rules that a player should or shouldn't wear soccer cleats. It can be anything the player can afford and feel comfortable with while playing. However, the practices of play state that the player needs to wear some footwear, but that footwear need not be soccer cleats.
This means a player who has forgotten or misplaced their soccer cleats before starting the game can still participate in the game in whatever shoes they might have with them.
But wearing soccer cleats will give you adequate grip on the ground and control over the ball. So, it is better to wear soccer cleats instead of wearing any other sort of footwear while playing soccer.
Especially during the rainy season and wet days, it can be pretty impossible to stay on the ground for a long time without soccer cleats!
Read Next – Find Good Size 15 Soccer Cleats!
Buying Guide For Soccer Cleats?
Soccer cleats are an essential tool to control the game with ease. It would be best to have a pair that offers unrelenting support, traction, and feel while playing.
It would be best to start with the perfect soccer cleats to enjoy the game. So, let's know what you should look for in the soccer cleats to control the field this time.
Snug Fit
Get tighter-fit soccer cleats, giving you a more natural feel of the ball in soccer. And make sure your soccer cleats have enough space so your toes don't press against the upper one.
You must look for the right pair of cleats that will give your pinkie finger enough space.
Material Of The Cleats
Over the last few decades, the materials of soccer cleats have changed a lot. Not just this, the technology continues to change.
But the aim of creating super-lightweight cleats yet durable, excellent, and thin remains the same. Additionally, they make it easy to move in and comfortable, too.
While considering the cleat materials, you must consider some features: targeted stitching, waterproofing, and thickly padded insoles for extra comfort. So, the following are the common materials for soccer cleats…
Read Next – Find which are good cheap women's soccer cleats!
K-Leather
Traditional cleats are often made of K-leather, a flexible, soft material with a super comfort factor. Unlike most other leather equipment, "Karoo leather" cleats do not have to be broken.
Natural Leather
Said, other cleats are made of different natural leathers, for example, full-grain or cowhide, which is less flexible but sturdier. Experts tend to go for these models as they provide a high level of comfort and a natural feel on the ball. But these are not waterproof. Thus, playing on a wet field consistently may have a negative impact.
Synthetic Leather
Remembering this, you can go for a cleat made of synthetic bathe that often features fake assets of leather but often adds added benefits such as waterproofing. These are easy to clean, breathable, and don't need a break-in period.
But they do not offer the same degree of feel on the ball as natural leather or K-leather. Synthetic leather is suitable if you are searching for a lighter, more durable, and waterproof cleat.
Knitted Uppers
The latest cleat material is in the system of "knitted" uppers. This is a highly surfaced texture for kicking the ball. It is made to increase traction and control in your kick, possibly creating a vast difference in the game.
These are also waterproof and lightweight.
ANLUKE Men's Athletic Hightop Cleats Soccer Shoes Football Team Turf (11 D(M) US Men, Orange/Grey)
out of stock
as of September 23, 2023 10:45 am
adidas Predator 20.3 Fg Footwear White/Gold Metallic/Core Black 9 D (M)
out of stock
as of September 23, 2023 10:45 am
Type Of The Cleat
The cleat type you will use depends mainly on the surface you will play on. Remember to ask your league about the surface type and any limitations on soccer cleats.
So, let's now talk about the types below. There are five common cleat types to choose from. These types are as follows…
Indoor:
It is designed to use on glossy, hard indoor soccer courts. Typically designed without studs or cleats, they appear more like light sneakers.
Hard Ground:
It is a low-proficient with the conical clerk on a rock-hard surface or a patchy field. Instead of digging into the earth, these soccer cleats sit on the ground.
Soft Ground:
These are designed for traction on a muddy fisk and are longer cleated than other types. Ask your league before buying these styles, as they often include metal studs or cleats.
Firm Ground (FG):
Conventionally used on grass fields in outdoor games, these types are frequently designed to handle artificial grass. They will give you additional traction on dry, firm surfaces.
Turf (AG):
Designed for operative use on turf or artificial ground and typically has highly concentrated pointed students. These are great for training and as a backup soccer cleat for challenging surface games.
Height Of The Ankle
As soon as it comes to your ankle height, you will have only two options:
Mid-profile shoes
Low-profile shoes
Mid-profile soccer shoes provide extra protection to your ankle and help to reduce the probability of a sprain. However, they can restrict your motion range to a certain degree.
But when you are a winger or a forward player, you will want the increase in motion range that the low-profile shoes offer to your ankle.
Where Can You Get Cheap Soccer Cleats?
Buy from the clearance section instead of the new arrivals or new balance if you wish to buy cheap soccer cleats.
However, you don't need to get a cheap quality product. These are the best places to get decent quality products under budget.
BOTTOM LINE
Typical soccer shoes go together with molded cleats. These are attached permanently, but you can similarly buy shoes that have removable cleats.
Skilled players prefer to go for the removable cleats because that allows them a little more flexibility, like having an additional set of soccer cleats for a soft field that you can immediately switch out as soon as it rains.
Choosing the sure seats for the playing surface makes sure you get maximum acceleration and traction on the field, making the soccer cleats the most significant part of your collection.
Prices may vary from country to country, so check before you buy.
Last updated on September 23, 2023 10:45 am