Are you a soccer player who love and search for kangaroo leather soccer cleats?
That is great because today I will show you my choice of 5 best kangaroo leather soccer cleats.
This article will also discuss why these types of cleats are suitable and why not now. Let's take a look and find the best pair.
My Top Kangaroo Leather Soccer Cleats
Wondering how I have chosen this them? Firstly, during my career, I have tried many cleats, including leather cleats.
I liked some of the models, others not, so I included my thoughts, and I think they are some of the best soccer cleats.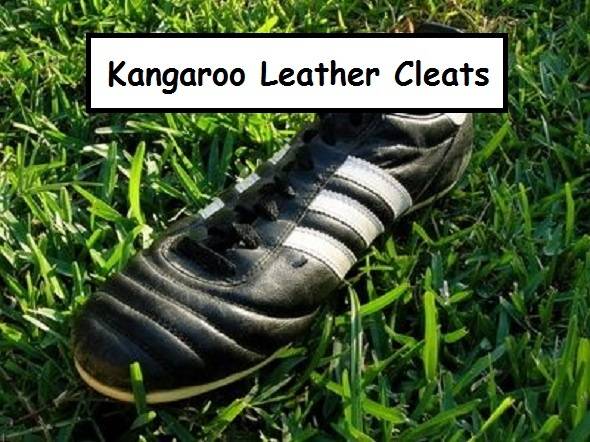 I think that the most recognizable is the Adidas Copa Mundial soccer cleats. I have to say that I have also played with them and I can say they are great & soft.
To be true, now I don't look or search just for leather cleats. I choose the pair of cleats that fit me best.
I do this by doing different things, check what to look for when buying new cleats.
Secondly, there are many sites and forums out where people talk and recommend different types of cleats.
One of them is for sure, Amazon.com, where people left reviews.
It is a good way to check what people think about different models of cleats.
Why Kangaroo Leather?
The Positive Side
The main thing why Leather cleats are great because people feel comfortable in them. Slowly, slowly, you think that your cleats are part of your feet. Leather cleats stretch and then adjust to your feet.
Another great tip for Kangaroo Leather models of cleats is that your feet will be more protected.
You will feel like they are part of your feet so that you will have better ball control.
I think 100% best type of cleats for people with wide feet because they can stretch well.
The Negative Side
The Negative thing about Kangaroo leather soccer cleats is that they are very absorbent. They can absorb a lot of water, and then they are heavier, and it is hard to play with them.
The next thing that is not good is that they can sometimes stretch too much.
What to do?
Many people are asking now, should I have them, how can I solve the problem.
I think kangaroo leather soccer cleats are perfect to have and play with them because you will have a beautiful touch and ball control, but to avoid their absorbency, don't play with them when raining the pitch is wet.
I have also written a post on how to care for leather soccer cleats that might help you. Caring for leather cleats is a little bit different than for other cleats.
If you are playing soccer more seriously (playing in a club, league…), you should have more types of cleats. You can check the article where I wrote about what cleats every player should have.
Then if you buy new cleats, you may also be interested in what to do when you bought new cleats and tips, so your cleats will last longer.
The best soccer balls are meant to be durable or perform well or both — depending on the type of use you intend to give them.
Kangaroo Leather Soccer Shoes
Known for being exceptionally soft, kangaroo soccer shoes offer unmatched comfort and touch on the ball.
This type of leather stretches to mold to your foot, meaning they are a great choice for players with wide feet.
Some of soccer's most legendary footwear styles, including the Adidas Copa Mundial and Puma King, are kangaroo leather cleats that have been trusted by iconic players in the game.
Today, kangaroo leather cleats are offered in a wide variety of styles and colors to ensure you find exactly the pair you're looking for.
adidas Performance Men's Copa Mundial Soccer Shoe,Black/White/Black,10 M US
23 new from $98.48
Free shipping
as of January 17, 2021 10:45 pm
Features
Legendary soccer cleats for stability on firm natural ground
Leather upper with premium K-leather in the forefoot for comfort and flexibility
Move with explosive speed and traction on dry natural grass with the Firm Ground outsole
Die-cut EVA midsole for lightweight comfort
Soft, durable synthetic lining
Nike Premier II Firm Ground Soccer Cleats White/Blue
2 new from $115.50
Free shipping
as of January 17, 2021 10:45 pm
Features
Style#: 917803-142
Wide lace area gives you a comfortable fit and feel.
Fold-over tongue hides the top of the laces for a smooth striking surface.
Full-length TPU plate is durable, stable, and responsive.
Conical studs give you targeted traction and a smooth ride.
Nike Tiempo Legend 7 Elite FG Soccer Cleats (M6.5/W8, Grey/Yellow)
3 new from $150.00
as of January 17, 2021 10:45 pm
Features
| | |
| --- | --- |
| Binding | Apparel |
| Brand | Nike |
| Color | Grey/Yellow |
| Department | mens |
| EAN | 0191888407040 |
| EAN List | EAN List Element: 0191888407040 |
| Package Dimensions | Height: 410; Length: 1160; Weight: 140; Width: 760 |
| Product Group | Shoes |
| Product Type Name | TECHNICAL_SPORT_SHOE |
| Size | 6.5 |
| Title | Nike Tiempo Legend 7 Elite FG Soccer Cleats (M6.5/W8, Grey/Yellow) |
| UPC | 191888407040 |
| UPC List | UPC List Element: 191888407040 |
New Balance Men's 442 Pro FG V1 Classic Soccer Shoe, Black/White, 9.5 2E US
2 new from $102.00
1 used from $58.47
Free shipping
as of January 17, 2021 10:45 pm
Features
Lightweight mesh lining
Die cut EVA insert for underfoot cushioning and comfort
Nike Tiempo Legend 7 Elite FG Soccer Cleats (M6.5/W8, White/Hyper Crimson/Black)
3 new from $199.99
as of January 17, 2021 10:45 pm
Features
Style#: AH7238-118
Premium kangaroo leather upper with interior quilting provides a cushioned touch.
Midsole features flywire cables that integrate with the laces to lock down the foot.
Outsole features stability pods for added support.
Nike Premier II FG Soccer Cleats (6 Big Kid M US, Black/Black)
as of January 17, 2021 10:45 pm
Features
Fold-over tongue hides the top of the laces to create a smooth striking surface
Kangaroo leather vamp offers classic, cushioned touch
adidas Men's World Cup Soccer Shoe, Black/White, 12 M US
as of January 17, 2021 10:45 pm
Features
K-leather upper for durability, lightness and glove-like fit
EVA insole for comfort
TPU plate for lightweight performance and durability
adidas Men's Copa 19.1 FG Soccer Cleats (8M, Black/Black)
3 new from $189.99
Free shipping
as of January 17, 2021 10:45 pm
adidas Men's World Cup Soccer Shoe, Black/White, 10.5 M US
6 new from $111.99
Free shipping
as of January 17, 2021 10:45 pm
Features
K-leather upper for durability, lightness and glove-like fit
EVA insole for comfort
TPU plate for lightweight performance and durability
Mizuno Morelia 2, Football Boots (US M9.0 (27.0cm))
as of January 17, 2021 10:45 pm
Features
MORELIA Station Limited Model
Light, Soft, Barefoot Feeling
Made in Japan
Scotch Guard Kangaroo Leather