Are you a soccer player who loves and searches for kangaroo leather soccer cleats?
That is great because I will show you my choice of the five best kangaroo leather soccer cleats.
This article will also discuss why these cleats are suitable and not now. Let's take a look and find the best pair.
My Top Kangaroo Leather Soccer Cleats
You are wondering how I have chosen them? Firstly, I have tried many cleats during my career, including leather cleats.
I liked some of the models, others not, so I included my thoughts, and I think they are some of the best soccer cleats.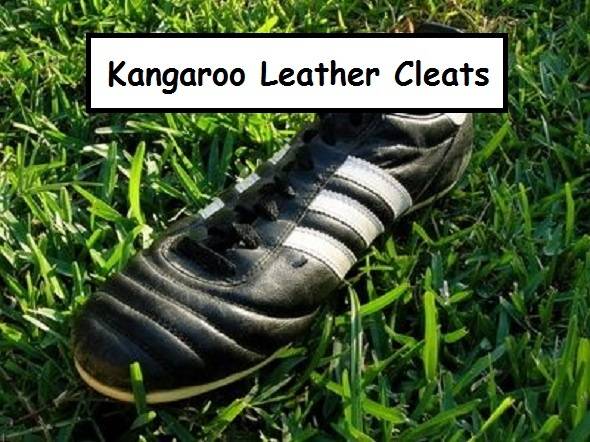 I think that the most recognizable is the Adidas Copa Mundial soccer cleats. I have to say that I have also played with them and I can say they are great & soft.
Now I don't look or search just for leather cleats to be accurate. I choose the pair of cleats that fit me best.
I do this by doing different things, checking what to look for when buying new cleats.
Secondly, there are many sites and forums where people talk and recommend different cleats.
One of them is, for sure, Amazon.com, where people left reviews.
It is an excellent way to check what people think about different models of cleats.
Why Kangaroo Leather?
The Positive Side
The main reason Leather cleats are outstanding is that people feel comfortable in them. Leather cleats stretch and then adjust to your feet. Slowly, slowly, you think your cleats are part of your feet.
Another excellent tip for Kangaroo Leather models of cleats is that your feet will be more protected.
You will feel like they are part of your feet to have better ball control.
They are 100% the best cleats for people with wide feet because they can stretch well.
The Negative Side
The Negative thing about Kangaroo leather soccer cleats is that they are absorbent. They can absorb a lot of water, and then they are heavier, making it hard to play with them.
The next thing that is not good is that they can sometimes stretch too much.
What to do?
Many people ask, should I have them? How can I solve the problem?
I think kangaroo leather soccer cleats are perfect to have and play with them because you will have beautiful touch and ball control but to avoid their absorbency, don't play with them when the pitch is wet.
I have also written a post on how to care for leather soccer cleats that might help you. Caring for leather cleats is a little bit different than for other cleats.
If you are playing soccer more seriously (playing in a club or league…), you should have more types of cleats. You can check the article where I wrote about what cleats every player should have.
Then if you buy new cleats, you may also be interested in what to do when you purchase new cleats and tips, so your cleats will last longer.
The best soccer balls are meant to be durable, perform well, or both, depending on the type of use you intend to give them.
Kangaroo Leather Soccer Shoes
Known for being exceptionally soft, kangaroo soccer shoes offer unmatched comfort and touch on the ball.
This type of leather stretches to mold your foot, making it an excellent choice for wide-fee players.
Some of soccer's most legendary footwear styles, including the Adidas Copa Mundial and Puma King, are kangaroo leather cleats that iconic players have trusted in the game.
Today, kangaroo leather cleats are offered in various styles and colors to ensure you find exactly the pair you're looking for.
It would be best to look for kangaroo leather shoes for comfort and ball control. This type of boot is preferred by professional players worldwide and is exceptionally lightweight thanks to this qu, whether the foot feels the ball verin boots made of kangaroo leathery well and feels like a second skin of its own. In addition, it tends to stretch after several games, so you must carefully monitor how comfortably the shoe sits on the foot.
It should also be noted that kangaroo leather boots are the most comfortable and expensive. So, here in this article, let's know which kangaroo leather soccer cleats I should pick…
Read Next – Best Turf Soccer Shoes Buying Guide
Why Is Kangaroo Leather Good For Soccer Shoes?
It is worth picking up the boots for better control over the ball, so they sit pretty tightly on foot.
But here, it is worth considering one feature! Kangaroo leather boots stretch quite a lot so that after two or three games, they sit on the leg, while Kangaroo leather cleats allow the player to feel the ball better. So, see these below…
5 Best Kangaroo Leather Soccer Cleats:
Football players choose a particular brand of boots for various reasons. We decided to look at the boot market in professional football and determine which football players and why favor shoe models.
Umbro Speciali 98 Maxim FG Soccer Cleat:
The first one is the Umbro Speciali 98 Maxim FG Soccer Cleat. Those who understand football shoes probably did not even doubt that this silhouette would be in this collection.
The last of the boots are comprehensive, and thanks to the soft leather upper that stretches perfectly, your feet will not have to suffer during the breakup period. At the same time, the FlyKnit inner layer does not allow the shoe to lose its shape—the perfect fit right out of the box.
The lacing is centrally located, so there is an opportunity to loosen the fit as much as possible, even if you have an extensive foot.
The upper is made of kangaroo leather, and this is unreal soft. If you are looking for an economical option – Academy is also quite suitable – the retail price tag is around 6 thousand.
Adidas Men's Copa Gloro 19.2 FG:
Adidas Men's Copa Gloro 19.2 FG is a more modern model, which can also be suitable for broad feet. Proper here, unlike the Traitors, the cordless version is quite dense and takes time to adapt. The laces and other upper structures will give you more room to improve the fit. Adidas Men's Gloro 19.2 FG can also recommend for both professionals and amateurs with any sole.
The TechFit material on the upper, despite its lightness and visual fragility, proved to be quite durable and, most importantly, very comfortable to wear. I want to focus separately on the convenience of a small sock, which is functionally valuable for this model. We also note the maximum reliable connection of the top with the sole. And in general, the minimalist design is conducive to reliability since there is nothing to tear and break.
adidas Performance Men's Copa Mundial Soccer Shoe,Black/White/Black,12 M US
16 new from $122.74

as of September 22, 2023 6:30 pm
adidas Performance Men's COPA MUNDIAL Athletic Shoe, black/white/black, 11 M US
$150.00


$

141.44
out of stock
8 new from $137.22
Free shipping
as of September 22, 2023 6:30 pm
adidas Men's Copa Gloro 19.2 Firm Ground, Black/Black/Solar Yellow, 9.5 M US
out of stock
as of September 22, 2023 6:30 pm
PUMA Unisex-Adult King Pro Fg Sneaker:
The best choice is PUMA Unisex-Adult King Pro Fg Sneaker. The model's feature is precisely to help adapt the boots to any foot. Adjustable lacing ensures that the shoes can be fixed even on narrow feet.
But by default, PUMA Unisex-Adult King Pro Fg Sneakers are perfect for guys with wide feet and high insteps.
Most football players who have tried this model praise the incredibly soft upper, ball feel, and comfort. And it's even a little strange that Puma will soon close the production of this line. Attention should be paid to the professional model. They differ quite a lot in amateur technology, and with a small budget, it is better to look at other boots.
PUMA unisex adult King Pro Fg Sneaker, Luminous Blue-puma White, 5.5 US
as of September 22, 2023 6:30 pm
PUMA unisex adult King Pro Tt Soccer Shoe, Puma White-puma White-puma White, 12.5 Women 11 Men US
out of stock
as of September 22, 2023 6:30 pm
PUMA Men's King Pro 21 Firm Ground Soccer Shoe, Black White, 9
7 new from $87.15
Free shipping
as of September 22, 2023 6:30 pm
Adidas Men's Copa Mundial Soccer Shoe:
Copa Mundial is the choice of true lovers of the classics and those seriously struggling with selecting shoes for a broad foot. This model has stood the test of time.
The main feature of the Copa Mundial is the soft top made of kangaroo leather, which adapts to any foot features in general. Moreover, these shoes can stretch both in length and width. That is why it is recommended to repurchase boots to back so that they sit down as they should and do not hang out on a couple of trips.
Of course, according to some football players, one cannot fail to note the chic feeling of the ball. No modern couple can compare with this classic. The same retro model only has a sole for the hall or synthetics. I ran in these centipedes for a year and can safely recommend them.
Once you get used to the bulky last and that they are slightly heavier than your average boot, you won't want to take them off. For winter football, in general, it is the most!
adidas Performance Men's Copa Mundial Soccer Shoe,Black/White/Black,10 M US
7 new from $149.95
Free shipping
as of September 22, 2023 6:30 pm
adidas Men's Mundial Goal Soccer Shoe, Black/White/White, 8.5 M US
5 new from $99.95
1 used from $68.78
Free shipping
as of September 22, 2023 6:30 pm
adidas mens Copa Mundial Soccer Shoe, Black/White/Black, 10 Women 9 Men US
4 new from $159.90

as of September 22, 2023 6:30 pm
adidas Men's Copa Mundial Soccer Cleat,Black/Running White,11 M
6 new from $131.82
Free shipping
as of September 22, 2023 6:30 pm
adidas mens Mundial Team Soccer Shoe, Black/White, 12.5 US
as of September 22, 2023 6:30 pm
Diadora Brasil Italy K-Leather Pro Cleats:
Diadora Brasil Italy K-Leather Pro Firm Ground Cleats are popular among futsal players, although centipedes are also worthy of consideration. Look no further for boots for natural turf.
The shoe has a wide last, kangaroo leather upper and a classic tongue shape that helps to adapt the pair to any foot condition. Top Flex is a professional model that meets the highest level in technology and materials – a well-thought-out sole structure, strengthening of essential places, and ventilation.
And due to the relatively low price, this shoe can be called one of the best. Its primary disadvantage is its appearance. Homa loves to play with bright colors too much! But convenience is much more important!
Diadora Brasil Italy K-Leather Pro Firm Ground Cleats (Pro Firm Ground, Numeric_12_Point_5) White/Royal
out of stock
as of September 22, 2023 6:30 pm
Diadora Brasil Elite Lt Lp12 Firm Ground Cleats (Black/Silver, Numeric_8_Point_5)
out of stock
as of September 22, 2023 6:30 pm
Conclusion:
So, this is our selection of the top 5 best kangaroo leather soccer cleats. We do not claim to be the ultimate truth. The reader may have a different view on the rating of football shoes. I hope this article is helpful to you…