The beautiful game soccer affects all generations to play from adults to babies including boys who want to be like famous soccer players. They are playing soccer with joy, so if we want them to make an improvement we should get them boys soccer cleats. Nowadays there are a lot of cleats we can choose from, so it's not easy to find the best pair and because of this, I'm here today, to tell you which are good boys soccer cleats. You will also find what we have to look for when are choosing cleats, which are good and other useful info that will help you to choose the best pair.
Best boys soccer cleats
Last updated on June 14, 2020 10:09 pm
What to look at when choosing cleats?
When we are choosing soccer cleats, there are some things we should look before we order them. Firstly you should take a look at what are these cleats made for and where your boy will use them. Is this on natural grass or artificial grass? This is the first thing we should look at.
Materials & Price
The next thing we should look at is the material which cleats are made of. I have to point out, I don't recommend you buy those cheap soccer cleats. Why? They are most time uncomfortable, hard and made of plastic. There are a few things that aren't good about them.
The first is they can be torn quickly, so you will have to buy another pair soon. Firstly you thought, you can save money like that, but in the long term, you pay more because you order more pairs.
Secondly, these cleats are very likely to be uncomfortable. I had a bad experience with cheap cleats, so I recommend you stay away from cheap boys' soccer cleats. They are very hard and your feet may hurt you after you stop playing soccer.
The third thing is that with these cleats you will have a worse feeling with the ball and you will consequently make more mistakes and play worse.
There are many other materials, so please stay away from that plastic. Nowadays there are also materials like carbon fiber, synthetic, kangaroo leather soccer cleats, which are good for people who have problems with wide feet because they stretch well. They're mostly old soccer cleats were made of leather, but they are still fantastic cleats. I have also written about wide soccer cleats, so you can check.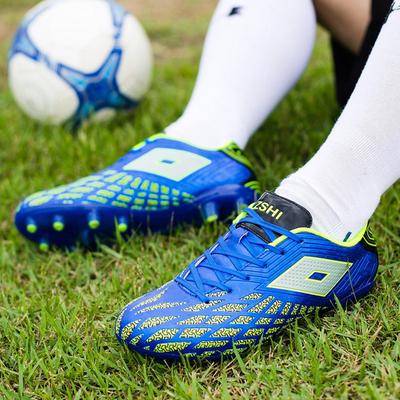 Right Size
There is one thing I have to mention because it happens that people forget, when you are ordering boys' soccer cleats, don't forget to check the size of cleats. Be sure that you have chosen the right size of your boy's soccer cleats.
Want more top cleats?
Are you wondering how to choose and which are top boys soccer cleats? Well, an amazing way is to take a look at comments and ratings that people left about the product they bought. You can get much additional information about that specific product. So if you are choosing boys soccer cleats, take a look at ratings and comment, because you can find many trustworthy reviews and order best soccer cleats.
I selected the list of 5 best boys soccer cleats above my mixing my experience and the top-rated boys soccer cleats. If you didn't already, you can check the list above.
What comes now?
Now I have given you some great tips which are the best boys' soccer shoes and told you how we should pick them. Now it's up to you. Take a look above and select a pair of boys' soccer cleats.
Last updated on June 14, 2020 10:09 pm