Kids are lovely, aren't they?
We want the best, wherever they are, when they are playing soccer, so I decided to write this article about kids soccer cleats that are the main equipment besides the ball at soccer.
Here I discussed why kid's soccer cleats are important, which are good, what we have to look at when choosing them, which I think are the best, and more.
Why are they important about kid's cleats?
Cleats, as I mentioned above, are the most important equipment for soccer. Why? The player who has it on this occasion kids have to wear all the time.
They are moving with them and kicking the ball, so they have to be quality and comfortable.
If they are not, kids may get hurt, injured and their cleats may get torn very quickly, so I think it is essential to carefully choose the best kids soccer cleats to prevent many negative things.
I think you won't that something happens to your kid for sure.
Which are good?
Choosing top kids soccer cleats is very hard, I would say. Why? Most kids cannot give the right comment and reviews on cleats they have.
They depend on which is good in colors, their favorite cartoon characters, designs, and what other kids their age have and talk about.
You may say now, what about parents?
I think parents are wonderful and can help and talk about approximations and observations about their kid, but I think they cannot 100% know what their child really likes and want.
Some of the kids say yes about some things because their respect and obey their parents, but anyway, we should take parent's reviews into account as best approximations.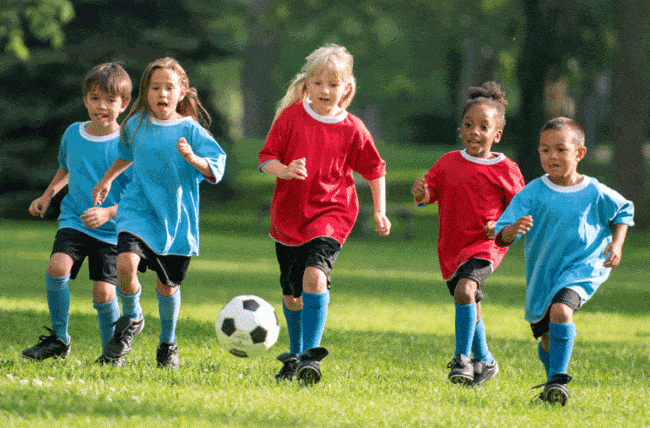 How to choose them?
The best way to choose them is by viewing reviews and comments of parents who have already bought kid's soccer cleats and did a review.
When you choose a new kid's soccer cleats to be careful that you choose the right size, make sure your child likes the design & colors, and buy at a verified store.
Best kids soccer cleats
Here is an interesting thing that I saw, and this is the brand.
Usually, there are the most popular Adidas, Nike, and Puma brands for soccer cleats, but I discovered that people bought many Vizari kids' soccer cleats and said that these cleats are perfect.
You can see that this is real also on Amazon.com.
My best pair
From the list above, my best kids, soccer cleats are Vizari Blaze because they have a wonderful rating and reviews.
I think kids are amazing, and we should really take care of them and give them the best, so they develop into wonderful persons one day, and they definitely deserve the best kid's soccer cleats.
Read Next – Littleplum Unisex Kid's Soccer Cleats
adidas Unisex-Kid's Goletto VI Firm Ground Football Shoe, Black/White/Scarlet, 1 M US Little Kid
out of stock
as of March 23, 2023 10:02 pm
Vizari Unisex Stealth FG Soccer Shoe, Black/White, 12 M US Little Kid
3 new from $28.00
Free shipping
as of March 23, 2023 10:02 pm
adidas Unisex Predator 19.3 Firm Ground Soccer Shoe, Black/Gold Metallic, 4.5 M US Big Kid
as of March 23, 2023 10:02 pm
adidas Unisex Predator 19.4 Turf Soccer Shoe, Black/Bright Cyan/Solar Yellow, 4.5 M US Big Kid
out of stock
as of March 23, 2023 10:02 pm
adidas Unisex Predator 19.3 Indoor, black/black/active red, 2 M US Little Kid
2 new from $37.46

as of March 23, 2023 10:02 pm
adidas Unisex-Kid's Goletto VI Turf Football Shoe, Black/White/Scarlet, 2 M US Little Kid
out of stock
as of March 23, 2023 10:02 pm
adidas Unisex-Kid's Predator 19.4 Firm Ground Soccer Shoe, Black/Bright Cyan/Solar Yellow, 1 M US Little Kid
out of stock
as of March 23, 2023 10:02 pm
Vizari Striker FG-K, Black/Silver, 12.5 M US Little Kid
6 new from $22.42
Free shipping
as of March 23, 2023 10:02 pm
adidas Boy's Goletto VII FG J Football Shoe, core Black/Shock Pink/Shock Pink, 2 M US Little Kid
4 new from $34.90

as of March 23, 2023 10:02 pm
Diadora Kid's Cattura MD JR Soccer Cleats (9 Toddler, Neon Pink/Neon Yellow/White)
out of stock
as of March 23, 2023 10:02 pm
adidas Predator 20.4 FxG J Soccer (Little Kid/Big Kid) Team Royal Blue/White/Active Red 5 Big Kid
out of stock
as of March 23, 2023 10:02 pm
DREAM PAIRS Girls HZ19003K Soccer Football Cleats Shoes Fuchsia Pink Royal Blue Size 12 M US Little Kid
as of March 23, 2023 10:02 pm