Every player who plays soccer needs soccer cleats. There are many soccer cleats, but I think we all want good & quality stuff, so we are always searching for the best and because of this I will today give you some tips on how to choose the best soccer cleats.
F

e

w

 

t

i

p

s

 

o

n

 

w

h

a

t

 

w

e

 

h

a

v

e

 

t

o

 

l

o

o

k

for?
You have available many soccer cleats which you can buy online or at the local store, but not all of them are best soccer cleats. Before we buy them we have to look at some things.
When you are buying & searching for new cleats, be sure that you are buying from a verified store, where before, there have been made sales, without any complications. Nowadays there are people who are cheating others so we have to be aware.
The next important thing when we are looking for the best soccer cleats is to pick the right size of your cleats. It might happen that you pick the wrong number and then you have to send back them etc. Avoid that by checking the size of them before you buy them.
Quality is the king, isn't it? When we are buying we have to look for quality cleats. Most times the quality is connected also with the price. The higher the price is, the more comfortable and quality cleats are. If we choose the best soccer cleats they will also last for a longer time, so you won't have to buy a new pair so early.
Then what is better for you? Buying best soccer cleats, feeling comfortable in them and having them for a longer time. Or buying cheaper cleats which are not so comfortable and you will have to buy them quicker than that high quality.
I think is better you buy the best soccer cleats which are more costly. I do like this and I have to say that it has proven great.
When we are buying & searching for best soccer cleats, it is good to collect reviews, opinions, and comments from others who have already bought it or have a similar model as much as we can.
If you are buying local this is harder, but you can still ask your friends, maybe your coach if you practice or at the local store the vendor.
When you are buying online you have here a lot more possibilities. There are many online stores including Amazon which is one of the biggest which has the opinion to leave comments, ratings, and reviews on products. Reading those is a gold mine because you can gather a lot of info about a different product. It's a must-have to check those when you are choosing the best soccer cleats.
Another way to find reviews, comments, and opinions from different people is to check to the soccer forum. You can also there find boards/posts related to cleats.
Men soccer cleats
Men soccer is the leading right now, so you have plenty of men soccer cleats out there. Practically you can buy them everywhere. Players who are practicing almost every day and playing in a league need and should have high-quality soccer cleats.
Boys' soccer cleats
If we want to have good soccer players in the future when should also take for our kids. There are many boys who are playing in a club almost like a professional. Boys soccer cleats should also be the best soccer cleats.
One thing that I have to remind you here that you choose carefully the size of cleats for boys because their feet grow fast as they do.
I recommend choosing a little bit bigger size, so you won't have to buy new cleats in a short period of time.
Best soccer cleats by position
Do you play soccer you want best soccer cleats for your position? Soccer cleats for defenders, soccer cleats for strikers, soccer cleats for midfielders and soccer cleats for goalkeepers. These are 3 common things people search. I have to say that is hard to choose which are best cleats for each position, but you can still choose and predict which are these, by properties of a different model of cleats.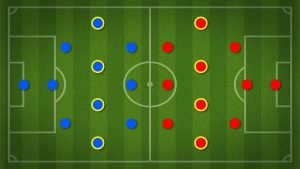 Women soccer cleats
Women soccer is a little bit less popular as men but is getting more and more every day and because of this, there are being made more women models of soccer cleats. They also need the best soccer cleats to improve their skills and show their best on the pitch.
Girls' soccer cleats
There we have also girls who are training hard and trying to become one of the best women players in the future. With them is similar to boys, so you can also check for girl soccer cleats to get more information.
Searching for indoor soccer cleats?
As you know soccer can be played also indoor, so you need a little bit of different equipment for indoor soccer, including cleats. To play it well, we also here need the best soccer cleats. I have made a post where you can check more about indoor soccer cleats.
Any best soccer cleats for wide feet?
There are also some soccer players that have wide feet, so they need soccer cleats for wide feet. One of them is me. I have large feet and I always buy cleats that fit me best. I settled down on Adidas cleats, more specific mostly predator models. I have a good experience with them. You could also check for kangaroo leather soccer cleats which can stretch and adjust to your feet.
What about cheap soccer cleats?
Do you want to save money when you are buying cleats and choose from cheap soccer cleats? You might be looking for quality cheap soccer cleats. I think you can find them, but there are a few of them. I will give you some tips on how you can get the best soccer cleats at a lower price.
Firstly there you can check on coupon sites or sites with price contests, here is one way where you can get high-quality cheap soccer cleats.
Another way is to buy older models cleats. They are older, but they are still great and can serve you good.
You can also get cheap best soccer cleats by checking online and local stores if there are any sales. A great way to get the best soccer cleats is also when a local store is moving out or they have clearance than you can get them for a lower price.
There are cleats that are very costly. If you are interested check at the most expensive soccer cleats.
Want to have cool soccer cleats?
Want to have cool soccer cleats or awesome soccer cleats that stand out from others? There are some the cleats that are really amazing with great designs. There is also a website where you can add your name & country flag on them, it is called http://www.prodirectsoccer.com/.
Different cleat brands
Cleats are made by different brands, so you might be asking which the best is. There are 3 most popular brands and this are Adidas, Nike, and Puma, so I was thinking, maybe they are most popular for a reason. They have quality cleats perhaps. From these 3 above I most prefer Adidas cleats, but I'm not saying that others are not good. I'm always buying Adidas cleats and I have good experience with this brand. Some other good brands are also Under Armour and Diadora.
Different cleats price
Are you buying the best soccer cleats, but you have a certain amount of money you want spend. Here I have written a post about best soccer cleats under 100$ and best cleats under 50$ you can check if you are interested.
What to do with new soccer cleats?
When you get new cleats you want to play with them right away, but check out this post about things you should do when you bought new cleats. You should also check tips you cleats will last longer and what cleats should every player have.
I really hope you like this post, it is helpful and it will help you to choose your best soccer cleats. I will update this website and add content over time, so come back later and find what is new and other information that will help you with choosing your cleats.