I wondered how much space people think should be in front of your toes when it comes to your football cleats?
Choose cleats that feel ultra-snug around your foot and allow for a bit of wiggle room in your toes.
Football Boots Size Guide
It's not uncommon for pros to wear cleats a half-size smaller than their standard casual footwear to get that "second skin" feel.
As long as you can wiggle your toes a little, you should have enough room to ensure total circulation.
How much space should be in front of my toes, in my cleats
Of course, everyone's feet are different, and if your cleats are super painful to wear (especially after they're broken in), you need to select a different size.
Victory on the pitch comes down to your footwork.
For this reason, cleats are the essential gear that any soccer player owns.
The best football cleats provide improved traction on the field and are designed to give you a responsive and consistent touch, whether you're ball-handling, shooting, or passing.
A premium pair of soccer boots should also feel lightweight and breathable, which will help limit fatigue as the game drags on under a hot sun.
Though every top-of-the-line cleat is designed to have the above attributes, not every model is going to fit your feet correctly.
So how exactly should cleats fit, ideally?
How much is toe room in soccer cleats too much?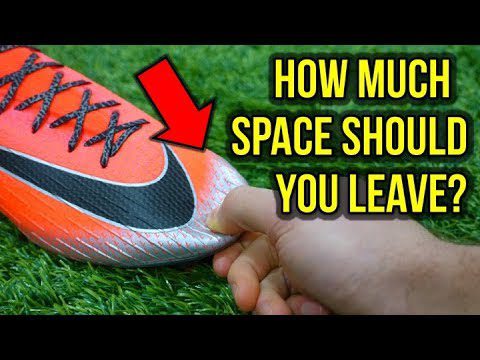 Read Next – Best Football Cleats for Flat Feet 2022
Are Cleats Supposed to be Tight?
In general, your cleats are supposed to be tight. Well, maybe "snug" is a better term.
You don't want boots so tight that they cut off circulation to your feet, but you want them to feel responsive, which means they should be very snug.
If they're too big, you won't have that "second-skin" feel, as if your cleats are part of your body.
Instead, you'll have cleats that may cause you to trip or allow your foot to slide around, which can produce blisters.
Lace the shoes properly. The top eyelet should be used for maximum support and snugness; however, over-tightening can cause pain or numbness at the ankle.
Check for snug heels. "Flip-flopping" out of the back of the shoe is unacceptable and dangerous.
Have your child walk around the store in the shoes and ask them how they feel.
When removing the shoes, remove their socks and check for red or wrinkled areas.
Read Next – Indoor Soccer Cleats–Which are good & How to choose them?
Factors when choosing cleats
Cleats can cause young players problems, especially in ages 9-13, when there are not enough cleats on the heel.
This can lead to excess pressure and heel pain.
Look for shoes with multiple cleats on the heel to help alleviate this problem.
It may help choose shoes with short cleats, no more than 1/2″ long, for younger players to reduce knew and ankle injuries.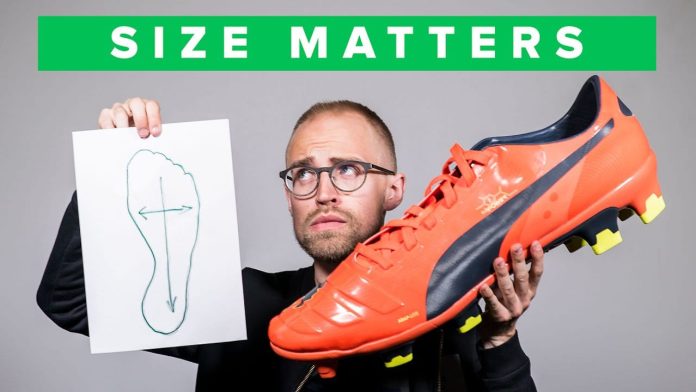 Read Next – How to make your cleats more comfortable?
If the shoe doesn't fit
Poor-fitting shoes can cause several problems, including:
Blisters
Curling or Clawing Toes
Bunions
Corns
Calluses
Pinched Nerves
Ingrown Toe Nails
Besides causing pain and discomfort that can affect athletic performance, the wrong size shoes can result in foot problems and further injuries down the road.
If your child has foot pain that persists 12 hours after taking off their shoes, you should see a doctor if there is potentially a more severe problem.
Nike Men's Alpha Menace 2 Shark Football Cleat, Multicolor, Size 10.5
as of May 22, 2023 3:02 pm
WRY Mens Football Boots Cleats Professional Spikes Soccer Shoes Competition/Training Boy's Sneakers Black, 8 Narrow
out of stock
as of May 22, 2023 3:02 pm
adidas mens Nemeziz 19.4 Flexible Ground Boots Soccer Shoe, Black/Black/Utility Black, 7.5 US
out of stock
as of May 22, 2023 3:02 pm
TYX Boys Football Boots, Breathable Non-Slip Soccer Spikes, Boys Girls Soccer Competition/Training Shoes, Professional Sneakers,Blue,40
as of May 22, 2023 3:02 pm
PUMA One 5.1 FG/AG Football Boots Multi Ground Adult – Football Boots (Multi Ground, Adult, Male, Sole with Studs, Black, White, Yellow, Monotone)
out of stock
as of May 22, 2023 3:02 pm
PLing Unisex Breathable Football Boots with Cleats Lace-Up Soccer Shoes High-Top for Men/Women/Boys/Girls Black
as of May 22, 2023 3:02 pm
PLing Unisex High-Top Football Boots with Cleats Lace-Up for Men/Women/Boys/Girls Orange
as of May 22, 2023 3:02 pm
PUMA Men's Botas de fútbol Football Boots, Black Blackasphalt 02, 11.5
out of stock
as of May 22, 2023 3:02 pm