Flat foot is a painful condition that afflicts many people.
Having flat feet can lead to all sorts of issues, including foot pain and the problem of finding the right shoe for your foot.
There are many different strategies for dealing with flat feet.  One common strategy is orthotics.
Best Football Cleats for Players with Flat Feet
Are you constantly getting weird aches in your instep while playing? You might not have the right kind of shape in your soccer cleats.
This could be due to the arches in your feet.
You may have flat feet and never knew it. If that's the case, check out our review of the best soccer cleats for flat feet.
Finding the best soccer cleats for flat feet can be difficult. There are different specifications required for each sport.
Soccer cleats are no different.
If you have flat feet, you should be even more selective when looking for the best soccer cleat for your foot.
Sports brands are more inclined to categorize soccer shoes for wide-footed players, but not so many flat-footed ones.
To ease the process for you, check what we found about the five best soccer cleats to suit your flat feet.
But orthotics are not for everybody.  Often, a good shoe or cleat can help with pain and discomfort as much as an orthotic.
What does one look for in a cleat for a person with flat feet?  What you want is a cleat wide enough for your foot.
The flat foot widens out your feet, and if the shoe is tight, that will cause wear on the outer edges (if you have flat feet, you already know this).
One of the misconceptions is you need a high arch in your shoe to help deal with flat feet. That is incorrect.  A high arch will only exacerbate the pain from your flat feet.
It would be best if you had a low arch to match your foot's contour, but be firm enough to hold whatever arch you have in place.
What you are looking for is a cleat that will provide anatomic arch support for your foot.
Best Cleats for Football Players with Flat feet:
New Balance MF793
If you are looking for biomechanically sound shoes with the width to fit your flat foot snuggly, look no further than this sneaker.
This shoe will have enough support for your arch and, at the same time, provide comfort via shock absorption.
Under Armour Crusher Mid Football Cleats
This football cleat is ideal for flat feet because they use EVA to construct their football cleats.  What is EVA?
EVA is the same material that is used in the construction of orthotics and insoles.
EVA will mold and contour to your foot's shape, providing arch support for the individual foot.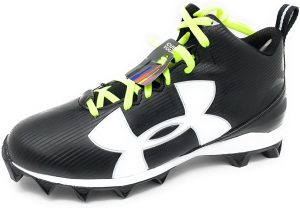 Adidas Youth Filthyquick Molded Football Cleats
This is a football cleat for younger kids that also utilizes EVA.
Remember, EVA provides anatomical arch support, which is really what you are looking for in a football cleat when your son has flat feet.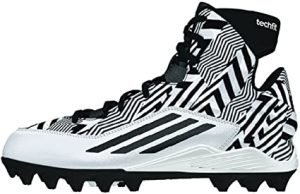 Nike Kids Vapor Strike is another child's football cleat that also uses EVA.
Best Football Cleats for Skill Positions (2021)
Read Next – New Balance 3000V4 Turf Baseball Cleats
adidas Filthyquick 2.0 Mid Youth Football Cleats White/Black 3.5
as of October 17, 2021 5:38 am
Under Armour New Mens UA Crusher RM Football Cleats Black/White Sz 10.5 M
out of stock
as of October 17, 2021 5:38 am
Nike Kids' Vapor Strike 4 Low TD GS Football Cleat (2 M US Little Kid)
out of stock
as of October 17, 2021 5:38 am
Nike Kids' Vapor Strike 4 Low TD GS Football Cleat (5.5 M US Big Kid)
out of stock
as of October 17, 2021 5:38 am
Under Armour Men's Highlight MC Football Shoe, Midnight Navy (402)/White, 13
out of stock
as of October 17, 2021 5:38 am
Under Armour Kids Boys UA Crusher RM Jr. Football (Little Kid/Big Kid) Black/White Sneaker 4.5 Big Kid M
out of stock
as of October 17, 2021 5:38 am
Under Armour UA Highlight MC Men's Black-White Football Cleats 16 US
out of stock
as of October 17, 2021 5:38 am
adidas Unisex-Kid's Freak Mid MD J Football Shoe, FTWR White, core Black, core Black, 2 M US Little Kid
out of stock
as of October 17, 2021 5:38 am
adidas Kids Freak Molded Cleats Football Shoe, Black/White/Grey, 11 US Unisex Big Kid
5 new from $36.88

as of October 17, 2021 5:38 am