A flat foot is a painful condition that afflicts many people.
Having flat feet can lead to all sorts of issues, including foot pain and the problem of finding the right shoe for your foot.
There are many different strategies for dealing with flat feet. One common strategy is orthotics.
Do you want to be a football player but have a flat foot? Well, there is nothing to worry about that. We are all unique in our way. Often those differences are seen in the form of skill. Other times it is a mentality.
However, frequently, it is simply the bodily features of the player. But the most important thing to consider is that we never saw Peter Crouch declaring to get muscular or Maradona wanting to be taller. Sometimes there is no need to change yourself. You just have got to work on what you have got.
And in case of having flat feet, you need to get the best cleats for you and practice as much as possible to make yourself perfect. Being a flat-footed person can never be a barrier to becoming a successful footballer.
So, read this article till the end to learn more about the best football cleats for flat feet. However, before we know the best football cleats for flat feet, let's first see what flat feet mean.
What Are Flat Feet?
A person with a shallow arch or no arch on their feet instep is known to have flat feet. The entire bottom of their feet either touches the ground in every position, or their instep falls flat on the surface in specific postures.
Flat feet are also known as "pes planus," seemingly a "postural deformity" in which the foot's arches do not develop. But having flat feet is not abnormal and is natural in kids. But the thing is, the angles of kids be inclined to grow higher in adolescence up until maturity.
However, individuals who have grown along their arches still low or flat to the ground are probably considered flat-footed persons for sure.
Consider These Things While Choosing Football Cleats For Flat Feet
You need to consider a few things while buying the best pair of football cleats for flat feet. Here are the things mentioned below to help you understand what you must look for in a couple of cleats.
Material for The Football Cleat
One important consideration you must make with your football cleats is the material type it's made of. There are mainly two types of materials…
Synthetic Material:
These are manufactured materials and are less breathable. Thus, they don't form around as leather material does. They won't hold up as long as leather does but are budget-friendly.
Leather Material:
Leather is one of the most traditional materials that are comfortable and durable too. Costs are on the higher end for a valid reason.
Correct Size ANd Width of Soccer Cleats
If you have flat feet, be careful while choosing your cleats. Do not buy a shoe that can cause pain & injury and negatively affect your game.
The cleat's size and width need to be correct. Your cleat should be comfortable and snug but not too tight.
Insole
The insole means the inside of your cleat. So, when it comes to your insole, try to look for something cushier and more comfortable yet sturdy and stable.
Outsole
Similarly, the outsole is the exterior part of your shoe which comes in a wide range of shapes and materials. You'll need to consider the correct type of outsole to meet your potential.
Type Of The Shoe (High-Top, Low-Cut, Mid-Cut)
The class also makes a big difference in football
High-Top
These cleats come up above your ankle
Low-Cut
These cuts are below your ankle
Mid-Cut
These are at your ankle
Now, among these cuts, which one you need depends entirely on your level of comfort and position.
Top 3 Best Football Cleats in 2022 for People With Flat Feet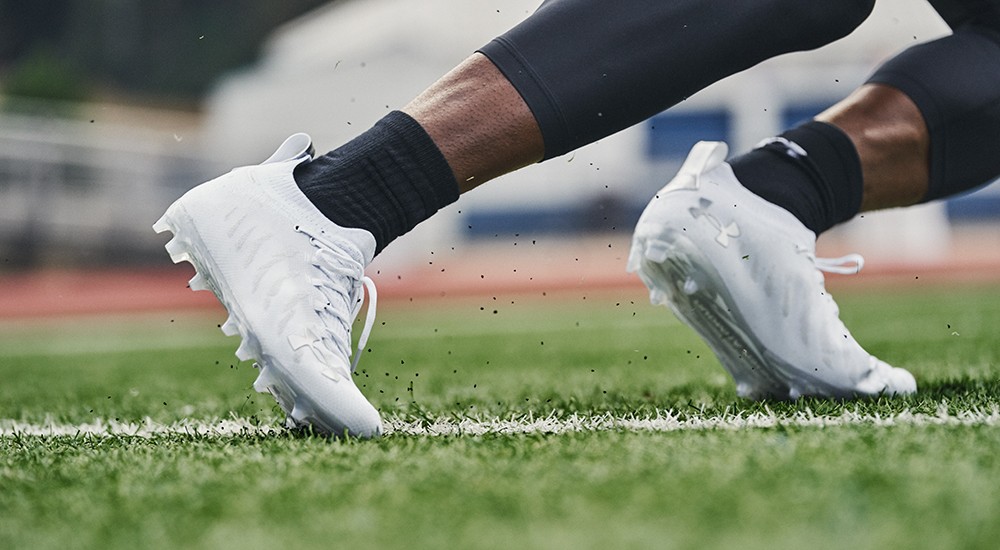 Sports brands categorize soccer or football shoes, mainly wide-footed players. However, not so much for flat-footed players.
So, to ease the method for you, check out what we found about the top three best football cleats or soccer cleats to suit your needs of flat feet.
Under Armour Men's Highlight MC Football Cleats
Our top choice for the best soccer or football cleats for flat feet is the Under Armour Highlight MC shoes and the Armour Men's Hammer Mid RM Football shoe. These shoes are great versatile football shoes for a wide range of positions.
The Under Armour Highlight shoes comes with a wide range of features. To leave you with stability and comfort.
You'll also get the SuperFoam high-rebound insole for comfort and the best shock absorption. It also has a full-length TPU plate of durable, stable, and comfortable cleats.
The design of this shoe is high-top along with a high woven upper. This comes with a CompFit form-fitting ankle structure to provide a snug fit for better speed and boost.
It also comes with a 3D molded tongue to increase the general comfort while providing a better fit.
Pros
Hot melt frame
Full-length TPU plate for cleats
3D molded tongue
Great stability
SuperFoam insole
Form-fitting CompFit
Cons
We did not find any!
Read Next – Best Nike Youth Cleats Football For You in 2022
Adidas Men's Adizero 8.0 Football Cleats
Adidas' Adizero 8.0 Cleat is an excellent option for flat-footed players as it's inexpensive and provides plenty of features. This shoe comes with a Sprintskin leather upper which is lightweight, reinforced coating under the forefoot, thus, increasing its strength unbelievably.
This padding makes sure that the player gets extra stability while playing. Another undeniable benefit is that it decreases the pressure, ensuring your feet get a comfortable fit.
It firmly holds your foot and removes pressure with its anatomical lace construction. This lock system is designed to advance locking and offer an additional natural flex, particularly on the shoe's upper part.
Pros
Anatomical structure helps to release pressure
Die-cut EVA footbed
Stable and strong with primary and unsurpassed reinforcement
Your feet will be securely locked with this shoe
Use lightweight padding for comfort
Natural snuggling is the main reason to provide ultimate comfort
Cons
Take a lot of time to break-in.
Read Next – Best Baseball Cleats for Flat feet
Nike Men's Alpha Menace Shark Football Cleats
Last but not least option is the Nike Alpha Menace Shark cleats for men and kids. Nike kids vapor strike is the best. This shoe features a Phylon midsole to deliver ultimate grip and traction. This makes the shoe easy to start & stop. The outsole of this shoe is also perfect for providing sufficient traction on the field to control your speed.
These cleats similarly feature the Nike Fast Flex technology, allowing your foot to move naturally within the football shoe. They are also available in various widths to fit any size of foot.
These are designed and made with a mid-top cut, so it's between a high-top cut and a low-top cut. This's particularly good for players who do not like the preventive feel of the high-top cut but who similarly want more steadiness than one can get from the low-top cut.
Nike Alpha Menace Shark also appears much more stylish and athletic than most other cleats for football out there. This makes the pair of shoes fun to wear and pick out, as they also come in a wide range of shades.
Pros
The Phylon midsole is there for lightweight padding.
Great combination of synthetic and leather material
Shark rubber outsole
Durable
Fast Flex technology from NIKE
Cons
They've got a tendency to run small in size
Read Next – Best Lacrosse Cleats for Flat Feet
Best Football Cleats for Players with Flat Feet
Are you constantly getting weird aches in your instep while playing? You might not have the right kind of shape in your soccer cleats.
This could be due to the arches in your feet.
You may have flat feet and never knew it. Check out our review of the best soccer cleats for flat feet if that's the case.
Finding the best soccer cleats for flat feet can be difficult. There are different specifications required for each sport.
Soccer cleats are no different.
If you have flat feet, you should be even more selective when looking for the best soccer cleat for your foot.
Sports brands are more inclined to categorize soccer shoes for wide-footed players, but not many flat-footed ones.
To ease the process, check what we found about the five best soccer cleats to suit your flat feet.
But orthotics are not for everybody. A good shoe or cleat can often help with pain and discomfort like an orthotic.
What does one look for in a cleat for a person with flat feet? What you want is a cleat wide enough for your foot.
The flat foot widens out your feet, and if the shoe is tight, that will cause wear on the outer edges (if you have flat feet, you already know this).
One misconception is that you need a high arch in your shoe to help deal with flat feet. That is incorrect. A high arch will only exacerbate the pain from your flat feet.
It would be best to have a low arch to match your foot's contour but be firm enough to hold whatever arch you have.
You are looking for a cleat that will provide anatomic arch support for your foot.
Read Next – The 8 Best Soccer Cleats for 2022
Best Cleats for Football Players with Flat feet:
New Balance MF793
If you are looking for biomechanically proper shoes with the width to fit your flat foot snuggly, look no further than this sneaker.
This shoe will have enough support for your arch and, at the same time, provide comfort via shock absorption.
Under Armour Crusher Mid Football Cleats
This football cleat is ideal for flat feet because they use EVA to construct their football cleats. What is EVA?
EVA is the same material used in the construction of orthotics and insoles.
EVA will mold and contour your foot's shape, providing arch support for the individual foot.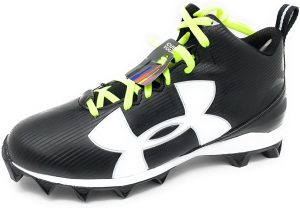 Adidas Youth Filthyquick Molded Football Cleats
This is a football cleat for younger kids that also utilizes EVA.
Remember, EVA provides anatomical arch support, which is what you are looking for in a football cleat when your son has flat feet.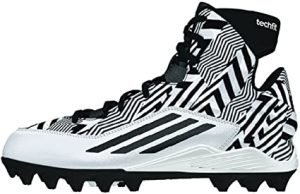 Nike Kids Vapor Strike is another child's football cleat that uses EVA.
Best Football Cleats for Skill Positions (2022)
Read Next – New Balance 3000V4 Turf Baseball Cleats
BOTTOM LINE
​Having flat feet is a less common thing than having wide feet. This makes things complicated for players with flat feet. But do not worry; you can rock the play with the perfect pair of cleats.
Just pick one among the football cleats we mentioned above and enjoy the play with total concentration on the game and not on the feet.
Never try to ignore your situation and face it with the best soccer cleat or football cleat!
Read Next – Best Football Cleats for Orthotics