What is the best cleat to buy this year? With so many choices, narrowing down exactly what you want can be challenging.
More important, however, is to figure out what you need when buying a pair of soccer cleats.
Not all cleats are created equally.
The Best Soccer Cleats In 2023 – For Every Play Style
Several factors, including position, size, strength, and age can influence the type of cleat you need.
Materials used to make the cleat can also influence your decision and change how the cleats perform.
This article will help you separate the social media/hype factors from the buying decision and help you determine which cleat is best for your purposes!
Read Next – Best Jordan Cleats Football
Best Overall: Nike Phantom 3 Club FG Soccer Cleats
A stand-out feature of these soccer cleats is that they have an embossed texture on the upper that helps with better ball handling as you run to the goal.
The studs on the bottom also dig into the ground for better traction during dashes, turns, and sharp cuts across the field.
Reviewers love their lightweight and supportive fit, along with a true-to-size feel.
These work for men, women, and kids.
Best for Kids: Dream Pairs Boys Girls Athletic Soccer Football Cleats
Kids love bright colors, and these come in more than ten options—perfect for your little ones to pick their favorite.
Besides the good looks, these kicks offer lots of support, thanks to a synthetic upper and a sock-like cloth around the ankle.
In addition to a snug fit, these soccer cleats offer a molded rubber outsole that provides a grip for your kids on the turf or the grass.
So whether they're playing in wet conditions or dry, they'll have a lesser chance of slipping as they speed across the field.
Best for Women: Adidas Originals Women's Nemeziz 18.4 Firm Ground Soccer Shoe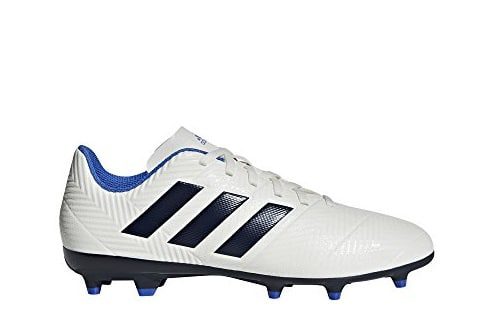 These shoes feel comfy right out of the box. You don't need to break them in or worry about stiffness.
The soft, supportive upper keeps your foot in place as you make quick turns and fast getaways down the turf.
Meanwhile, the studs on the bottom offer plenty of traction to keep you moving quickly without risking a significant fall.
Best for Men: Adidas Performance Men's X 16.3 Fg Soccer Shoe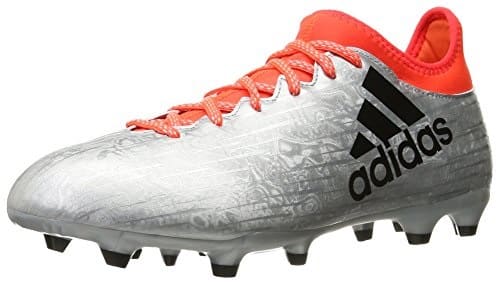 The compression on this Adidas Performance pair's upper molds to your feet, and no break-in time is required.
That means it keeps the shoe in place, too, no matter how fast you move across the field or how many twists and turns you take to get to the goal.
The grip on the bottom also makes dashing from one goal to the next super easy.
Reviewers also praise just how long they last, despite getting a lot of action during game time.
Best for Soft Cushioning: NIKE Tiempo Rio Iv Fg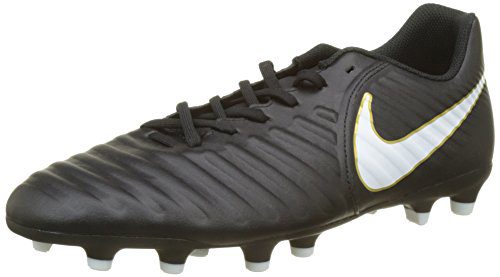 The best thing about this shoe might be the foam padding underfoot that promotes comfort and cushioning.
Meanwhile, the synthetic upper is also soft and malleable for quick movements and sprints. Nike also ensures the tongue doesn't shift around and irritate your skin, so it's fixed to the side.
You ensure the material doesn't rub you the wrong way.
In addition to the comfort, you'll also feel confident in the shoe as you move side-to-side or front-to-back.
The outsole provides all the traction you need, too.
DREAM PAIRS Boys Girls HZ19002K All Black Soccer Football Cleats Shoes Size 2 M US Little Kid
as of September 22, 2023 12:15 pm
DREAM PAIRS Girls Hz19006k Soccer Football Cleats Shoes Purple Pink Size 1 M US Little Kid
as of September 22, 2023 12:15 pm
DREAM PAIRS Boys HZ19003K Soccer Football Cleats Shoes Black Neon Green Size 12 M US Little Kid
as of September 22, 2023 12:15 pm
Best for Arch Support: Leader Show Women's Performance Soccer Shoe Outdoor Athletic Football Cleats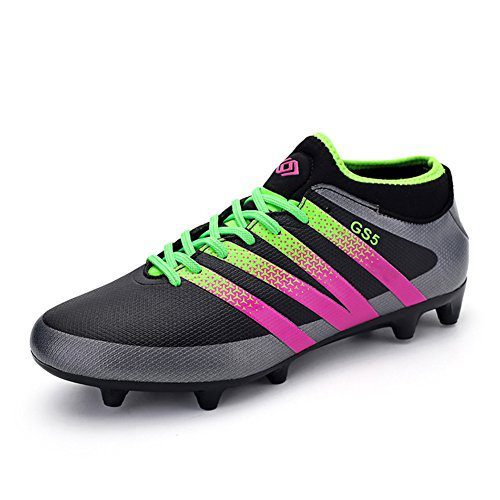 When running around for hours, you want to feel a little protection underneath you—especially in the arch of your foot.
These women's soccer cleats offer underfoot support and an extra snug sock-like upper to hug your ankle.
This construction makes for easy maneuvering and comfort.
Thanks to its flexible yet durable finish, the rubber outsole doesn't hold you back from any movements.
You get both the comfort and grip of this shoe.
Best for Wide Feet: Puma Men's Evopower 1.3 FG Soccer Shoe
If most pairs of shoes you try on seem too snug, these shoes might be your best bet.
Reviewers love that they don't squeeze the toes too tight and that even if you have a wider foot, you'll feel comfortable lacing these up.
Everything from the stretchy upper, flexible yet durable outsole, sticky bottom, and foamy lining makes for a comfortable feel that allows you to handle to soccer ball easily while sprinting around.
Read Next – Best Women's Soccer Cleats 
Top 5 BEST Soccer boots 2023
When choosing the best soccer cleats, remember a few things. First, what surface will you be playing on?
Second, what type of player are you? Grass or turf? Are you more interested in speed or control? No matter your preferences, we've covered you with our list of the best soccer cleats for 2023.
From Nike to Adidas and everything in between, we've got the perfect pair of cleats for every type of player.
Adidas Predator
Adidas Predator soccer cleats are some of the most popular on the market. They offer great support and durability, and their sleek design is perfect for any player looking to make a statement on the field.
If you're in the market for a new pair of soccer cleats, check out the Adidas Predator line.
Nike Mercurial
The Nike Mercurial is one of the best soccer cleats on the market. It is made with a synthetic leather upper that provides an excellent ball feel and a comfortable fit.
The Mercurial also has a contoured sock liner that helps to reduce stud pressure. Additionally, the Mercurial has a lightweight TPU plate that provides excellent traction and stability on firm natural surfaces.
Puma One
If you're looking for a cleat to help you take your game to the next level, look no further than the Puma One.
Designed for speed and comfort, the Puma One is perfect for players who want an edge over the competition. With its lightweight construction and responsive feel, the Puma One will help elevate your game.
Under Armour Spotlight
The Spotlight cleat from Under Armour is designed to help you perform your best on the soccer field. It features a durable synthetic upper that is lightweight and breathable and a die-cut EVA sock liner that provides cushioning and support.
The cleat also has a TPU plate with metal studs that offer excellent traction and stability on firm natural surfaces.
Read Next – Currently best puma soccer cleats!
How to pick the best soccer cleat for you
When choosing the best soccer cleat for you, there are a few things to keep in mind. First, consider the type of surface you'll often play on. If you play on artificial turf, look for a cleat with shorter studs that will provide better traction. If you play primarily on natural grass, choose a cleat with longer studs to help you grip the ground better.
Next, think about your position in the field. If you're a striker or attacking midfielder, you'll want a lightweight cleat that won't slow you down as you progress toward the goal. For defenders and midfielders, a heavier-duty cleat is often best as it can help anchor you to the ground and give you more power when making tackles or passes.
Finally, consider your budget. Plenty of high-quality soccer cleats are available at all price points, so don't feel you have to spend a lot of money to get a good pair. With these factors in mind, take some time to try out different pairs of soccer cleats until you find the perfect one for you.
Read NEXT – Under Armour Highlight Mc Lacrosse Cleats
What to look for in a soccer cleat
When shopping for soccer cleats, there are a few things to remember. First, consider the type of surface you'll often play on. If you play primarily on grass, look for cleats with longer studs that will provide traction and stability.
If you play on artificial turf, look for shorter studs that provide a good grip without being too aggressive.
Next, think about the kind of player you are. If you're a speedster who relies on quick cuts and direction changes, look for lightweight cleats that won't weigh you down.
If you're a power player who likes to blast shots from long range, look for solid, supportive cleats to help you put some extra oomph behind your kicks.
Finally, make sure to try on the cleats before you buy them. Soccer cleats should fit snugly and supportively around your foot, so it's essential to find a comfortable and secure pair. Once you've found the perfect soccer cleats, get out there and start tearing up the pitch!
Read Next – Best Soccer Cleats for Midfielders
How to clean your soccer cleats
Assuming you already have your soccer cleats, you will want to keep them clean and well-maintained if you want them to last.
Remove the laces and insoles from your cleats. These can usually be washed separately from the rest of the shoe. Here are a few tips on how to clean your soccer cleats:
Use a soft brush or cloth to remove any dirt or debris from the surface of the cleats. Pay special attention to the area around the studs, as this is where most of the land and grime will accumulate.
If your cleats are particularly dirty, use mild soap and water sol. Be sure to rinse the soap thoroughly afterward.
Allow your cleats to air dry completely before wearing them again. Avoid using heaters or other direct heat sources, as this can damage the material of your cleats.