In the market for a new pair of cleats to improve your game? These are the best women's soccer cleats you need to have.
Plenty of soccer cleats are explicitly designed with women in mind. But which is the top brand of the best women's soccer cleats?
Seeing you on our page, we can assume that you are searching for a pair of high-quality cleats for women soccer players.
And you have come to the right place for that. Women's soccer cleats are undoubtedly essential to consider when wishing to improve your performance on the field.
Whether a goalkeeper or a striker, there are custom-made soccer cleats for any position.
You will find special ones for comfort, stability, speed, adaptability, or traction. Soccer experts always recommend doing a little thorough research before buying a new pair of cleats for soccer.
That is why we researched the best soccer cleats for women on the market now. Whether you are an immediate player searching for lightweight cleats or a rugged defender, this list of soccer cleats will fit everyone's needs.
Because from beginners to professionals, this below-mentioned list is for everybody!
Please continue reading this article to discover our in-depth information on these three excellent soccer cleats especially made for women!
Read Next – What cleats should every player have?
More About Cleats Type:
There are mainly two types of cleats.
Firm-ground (FG)
Artificial Grass (AG)
Firm-Ground (FG) Usually, people use firm-ground cleats on natural grass, but a few cleats are now also designed to handle Artificial Grass (AG). They characteristically boast non-removable, rubbery studs or cleats that are either conical or bladed in shape.
Artificial Grass (AG) On the other hand, synthetic grass, commonly known as AG cleats, usually has shorter studs or cleats with a round shape. Both styles are pretty similar. Thus, some brands have decided not to deliver AG-specific soccer cleats.
Multi-Ground (MG) In its place, you will find a few brands that sell multi-ground or MG cleats. MG is the hybrid type of the 2, combining the round studs from artificial grass (AG) cleats with the bladed studs found mainly on FG cleats.
Artificial Turf There are similarly synthetic turf cleats. Please do not confuse it with style mentioned above, AG. The Artificial Turf cleats come with significantly shorter studs (shorter than AG cleats) since they are designed specially to wear on thin carpet-like Turf that does not provide as much grip. The Artificial Turf cleats style also offers more studs in the shoe than any other cleats to evenly distribute pressure across your foot and prevent knee or foot pain.
Soft Ground (SG) Finally, the soft ground or SG cleats come with longer studs to provide extra traction on muddy, wet fields. These types may also have detachable studs and are metal-tipped.
Read Next – Adidas Performance Men's Goletto VI FG Soccer Shoe
Top 3 Best Women's Soccer Cleats To Buy in 2022
High-quality soccer cleats deliver excellent support, traction, and also ball feel.
The below-mentioned top 3 soccer cleats provide them all. Let's now check out the list below…
PUMA Universal FG Women's Soccer Cleats
We all see that PUMA (country of origin, German) is an international athletic brand. In general, it significantly influences the sports world, and especially in soccer, PUMA masters it.
This brand delivers unanticipated sports shoes with revolutionary and innovative designs.
PUMA Universal FG Women's Soccer Cleats provide support with a low-arched design. It is excellent for anybody who needs high arch support for their feet.
For an affordable price, you will get this excellent footwear that lasts for a long time because it is made of 100% pure leather. However, the sole of the shoe is made of synthetic material, and the platform of the shoe measures around 1.25 inches.
If you are looking for excellent traction, comfort, and an affordable price, this item is for you! It is a comfortable fitting cleat for any age group of women who love to play soccer!
Features
Artificial sole
100% Leather outsole
Heel measures around 1 inch
Platform measures around 1.25 inches
Pros
Great comfort while playing, particularly in case you have flat or low-arched feet
Excellent traction at any location
Great for women players of all ages and levels
Designed for the best agility
Cons
You may feel a little bit of stiffness at the beginning
Puma Future Z 4.3 Soccer Shoe, Neon Citrus-Diamond Silver Black, 5.5 US Unisex Big Kid
as of December 15, 2022 5:16 pm
PUMA One 20.1 FG/AG Mist Green/High-Rise/Dark Denim 10 B (M)
out of stock
as of December 15, 2022 5:16 pm
Read Next – Which are Most Expensive Soccer Cleats?
Adidas Women's Goletto VI FG W Soccer Shoe
By selecting Goletto 6, you will begin with proper footwear. This cleat from Adidas is made using synthetic leather to provide comfort and a light touch, plus the feeling! Whether you are a beginner at soccer or wish to upgrade your footwear, this item will be the right choice!
You must have never got so comfortable padding in your shoe before! The Die-cut EVA insole and soft textile lining will get you all-out padding and comfort! Additionally, you are getting a soccer cleat with FG outsole equipment capable of delivering superior speed, traction, and performance.
Classic women love this shoe's aesthetic and the stability this shoe provides. It has an unbelievable price and is among our list's healthiest options. If you are a beginner, this item should be on the top of your Wishlist.
It's also an excellent option for defender players because it has a sturdy construction. You can shop this women's soccer cleat and hope for the final whistle as a defender.
Features
Textile lining
Synthetic leather uppers
Firm-ground (FG) cleats
Padded EVA insole
Pros
Awesome Value
Very comfortable
High-quality materials
Fits very well
Cons
Lack of support on the ankle
adidas Women's Goletto VII Firm Ground Cleats Sneaker, Footwear White/Energy Blue/Easy Coral, 11
out of stock
as of December 15, 2022 5:16 pm
adidas Unisex X Speedflow.3 Firm Ground Soccer Shoe, Black/Sonic Ink/Solar Yellow, 7 US Men
6 new from $69.99
2 used from $40.71
Free shipping
as of December 15, 2022 5:16 pm
adidas Predator Freak .3 Firm Ground Soccer Shoe (mens) Black/White/Black 10
7 new from $85.00
2 used from $68.43
Free shipping
as of December 15, 2022 5:16 pm
adidas Goletto VIII Firm Ground Soccer Shoe, Core Black/Royal Blue/Core Black, 5 US Unisex Big Kid
9 new from $29.54
6 used from $20.63
Free shipping
as of December 15, 2022 5:16 pm
Read Next – The 8 Best Soccer Cleats for 2022
Nike Mercurial Superfly 8 Elite FG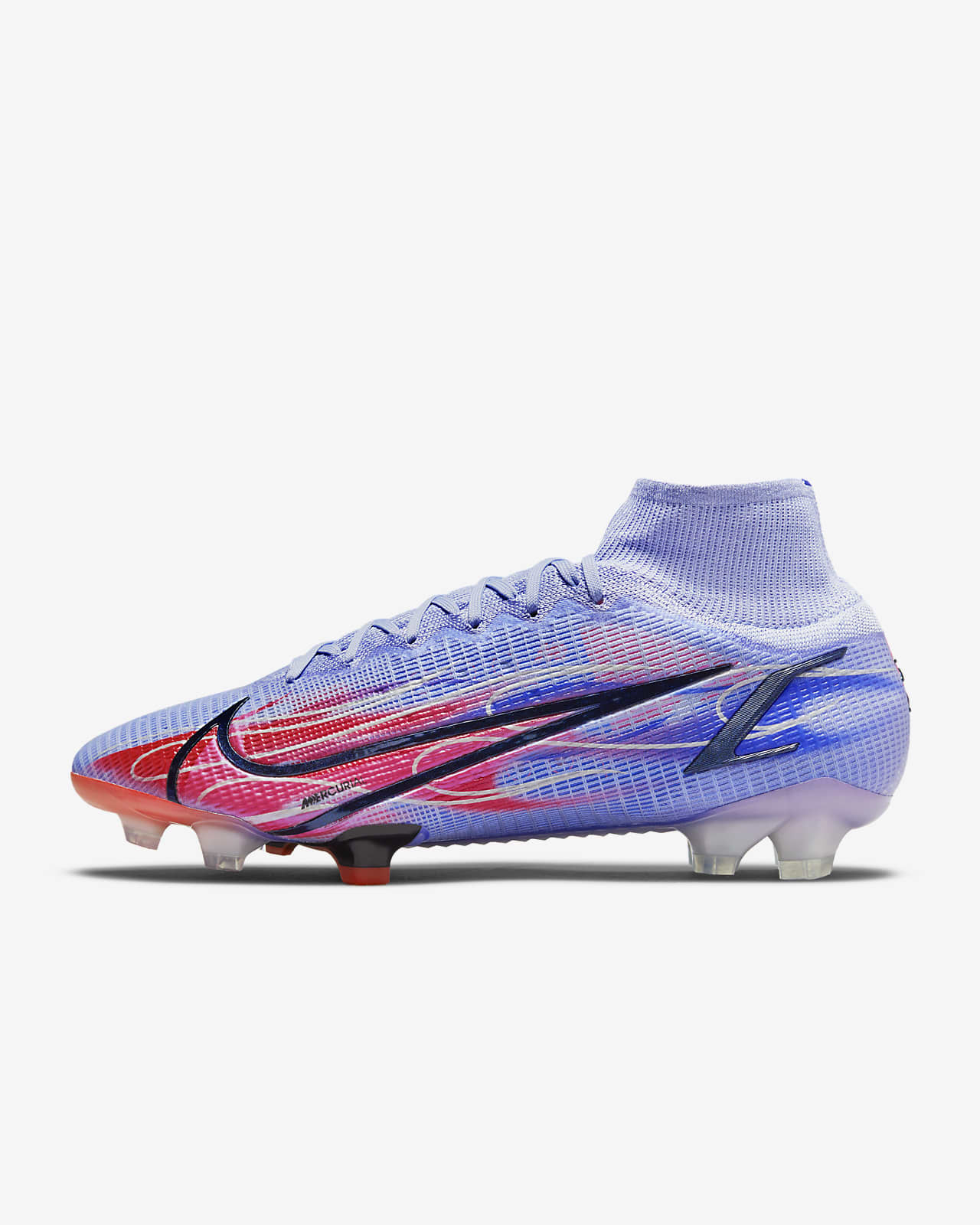 The Nike Mercurial Superfly 8 Elite FG is an ideal shoe for women's soccer players. It follows a significantly well-reviewed Nike Superfly 7 model, and not all efforts at upgrading translated to a noteworthy performance uptick. Yet, it is a good cleat for women, and buying it will not be wrong.
This model from the Nike Superfly line-up changes its upper fabric from Flyknit to the synthetic Vaporposite. It is a spitting copy of the Mercurial sibling: named the Vapor 14. Both these soccer cleats feature the same shoe materials and design, but the difference is the cleat's Flyknit collar that is available on the Mercurial Superfly 8 from Nike.
This additional feature is maybe what connects the Superfly 8 with the last four releases of Superfly, which featured Flyknit material in the upper part of the shoe.
Essentially, the Superfly 8 cleats are for women players who're shiftier and consequently need further support around their ankles.
Features
Excellent vapor penetrability
KYLIAN MBAPPÉ (KM) logo printed on the heel allows you to represent the fastest soccer player in the world
360° Flyknit construction holds your feet like the second-skin fit
Textured design on the molded upper provides you accurate touch when you dribble at high speeds
The dynamic Fit collar has your ankle in stretchy, soft fabric for a safe feel
Padded insole for extra comfort
Pros
Nice forefoot texture
Reliably grippy
Nice fit
Stylish
Lightweight
Stable & supportive
Cons
Less comfortable
Needs break-in time
Less protection
Gimmicky
Copy of the previous model
Top 10 Best Soccer Cleats in 2022
This article highlights the top ten options for footwear, and the brands that shine are Nike and Adidas.
All made with high-quality materials to bring out your best playing abilities, these women's soccer cleats are high for everyone, from beginners to the pros.
Nike Cleats Hypervenon Phantom
Plus, any of these cleats would be a great gift for soccer fans for any occasion.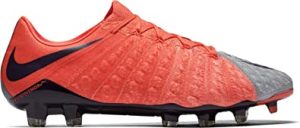 To begin our list of only the best women's soccer cleats, this is just the first of many Nike cleats that are quality footwear. This third addition to the Hypervenon Phantom line is not only sturdy but explicitly designed to support the best footwork and shooting.
Created with Flywire for the upper's sides, it also has added texture to create a dampening touch that will quickly set up each of your shots. Plus, it has an entire Flyknit upper to provide a close fit to your foot, almost like a sock.
Adidas Cleats Performance Ace
Adidas is another powerhouse in the cleats market, and the Performance Ace for women is no exception. Though they are known for their exceptional indoor soccer shoes, their cleats are also gems. As one of the best women's soccer cleats, this footwear has a synthetic sole and soft lining.
Each move will feel comfortable in this pair. Plus, it is designed to perform best on firm ground or artificial grass. You'll never worry about traction again, as the outsoles are highly flexible.
Adidas Cleats
Featuring a round toe, lace-up vamp, and back pull-tab, this Adidas pair of cleats will be sure to amp up even the greatest soccer player.
This cleat will complete any team's uniform as a classic color scheme and nothing too flashy or over the top. Plus, they're super comfortable, versatile, and flexible.
Nike Cleats Mercurial Superfly V FG
Another Nike choice is, without a doubt, the Mercurial Superfly V FG, which is also one of the best men's soccer cleats. As one of the best women's soccer cleats, this footwear is customizable, and you can add your name to the inside of the heel and your number.
Nike Cleats Dynamic
The Fluknit upper is close to the foot, plus the Dynamic Fit Collar supplies ankle support. You won't want to wear any other pair, as the new speed ribs wrap the foot for stability and control.
Adidas Cleats Predator

Adidas is known for its simple yet powerful designs that catch anyone's eye while still being subtle.
The Predator has been known as a game-changer, and the newest addition is no exception.
The sock-like fit will allow for a natural shape and fit, while the mid-cut collar is a heel tab for easy fitting. The Primeknit is so soft and comfortable that you'll barely feel the shoes on your feet.
Nike Cleats Tempo Legend VII FG
The Tempo Legend VII FG by Nike is one of the best women's soccer cleats because of the new technology incorporated into their design and created with kangaroo leather material and a foam skeleton. The shoe will fit close to the foot while feeling like a second skin.
Soft and comfortable, the fit mesh lining and nylon backer contribute to the shoe's versatility. Plus, each shoe is created with a Flyknit tongue, which makes a fit that feels as if it is custom-made for you.
The built-in bandage system is perfect for controlling the ball and passing and shooting. Plus, the agility outsole is intricately designed for playing on firm ground.
Nike Cleats Magista Orden II
Our final Nike selection on our list of the best women's soccer cleats is the Magista Orden II DF FG. Each texture is designed for excellent ball control and rotational agility.
The upper is made with Kangaline to feel skin-like and mold the foot. The midsole is a sock liner. And the outsole is a full-length TPU.
What more could you need from a pair of cleats?
Adidas Cleats Goletto VI FG
Adidas does it again with the Goletto VI FG. This pair has a synthetic leather upper and soft textile lining. Made of the most lightweight and comfortable materials, the cleats have a firm ground outsole for the best performance possible.
Plus, the die-cut EVA insole has supportive cushioning and a comfortable feel.
With our wildcard, let's finish off our list of the best women's soccer cleats. Who knew New Balance had trustworthy, quality cleats? Plus, they are pretty affordable. The upper is made with quilted kangaroo leather, while the outsole is created with nylon.
The shoes are comfortable, flexible, and, most importantly, will help you control the ball and, ultimately, the game.
BOTTOM LINE
In a close game like soccer, every little blunder can have serious consequences. That is why you need to be very careful about your steps.
And for that, you need the best pair of cleats. We hope you know now which one to get from our list for your needs and preference.
With these women's soccer cleats, you will provide yourself the chance to make the play that seals your victory.
This set of Soccer cleats for women features ankle and arch support and the right amount of cushioning to provide all you need.
LEOCI Men's Women's Firm Ground Soccer Cleats Outdoor/Indoor Boys Girls Professional Futsal Football Training Sneakers (4.5 Boys/Girls/Women, Pink)
as of December 15, 2022 5:16 pm
LEOCI Men's Women's Firm Ground Soccer Cleats Outdoor/Indoor Boys Girls Professional Futsal Football Training Sneakers (8.5 M US Women/7.5 M US Men, Pink)
1 used from $30.31
Free shipping
as of December 15, 2022 5:16 pm
adidas Women's Goletto VII Firm Ground Cleats Sneaker, Footwear White/Energy Blue/Easy Coral, 11
out of stock
as of December 15, 2022 5:16 pm
adidas Women's Goletto VII Firm Ground Cleats Sneaker, Footwear White/Energy Blue/Easy Coral, 5.5
out of stock
as of December 15, 2022 5:16 pm
Puma Future Z 4.3 Soccer Shoe, Neon Citrus-Diamond Silver Black, 5.5 US Unisex Big Kid
as of December 15, 2022 5:16 pm
PUMA One 20.1 FG/AG Mist Green/High-Rise/Dark Denim 10 B (M)
out of stock
as of December 15, 2022 5:16 pm
WELRUNG Men's Women's AG Sports Soccer Cleats Training Shoes Non-Slip Wear Resistant for Blue 7/6 US
2 new from $39.90
Free shipping
as of December 15, 2022 5:16 pm
adidas Unisex X Speedflow.3 Firm Ground Soccer Shoe, Black/Sonic Ink/Solar Yellow, 7 US Men
6 new from $69.99
2 used from $40.71
Free shipping
as of December 15, 2022 5:16 pm
adidas Predator Freak .3 Firm Ground Soccer Shoe (mens) Black/White/Black 10
7 new from $85.00
2 used from $68.43
Free shipping
as of December 15, 2022 5:16 pm
adidas Goletto VIII Firm Ground Soccer Shoe, Core Black/Royal Blue/Core Black, 5 US Unisex Big Kid
9 new from $29.54
6 used from $20.63
Free shipping
as of December 15, 2022 5:16 pm
adidas Predator 20.4 FxG Black/Black Soccer Shoes 7
2 new from $64.90
Free shipping
as of December 15, 2022 5:16 pm
Hawkwell Men's Outdoor Firm Ground Soccer Cleats, Black PU, 9 M US
as of December 15, 2022 5:16 pm
LEOCI Men's Women's Firm Ground Soccer Cleats Outdoor/Indoor Boys Girls Professional Futsal Football Training Sneakers (8 M US Women/6.5 M US Men, Pink)
as of December 15, 2022 5:16 pm