Soccer cleats are one little thing we must have if we want to play soccer.
There are different sizes & brands of soccer cleats, and their price can vary significantly.
You can get cleats for meager money, but there are also ones that cost a lot, and today I'm going to show you which are the most expensive soccer cleats you can buy.
Most expensive soccer cleats right now
Why do they cost so much?
There are a few reasons why some cleats are so much more costly than others.
In the past, you spent 100$ and received a good pair of cleats, but today the prices have increased and are much more than 100$.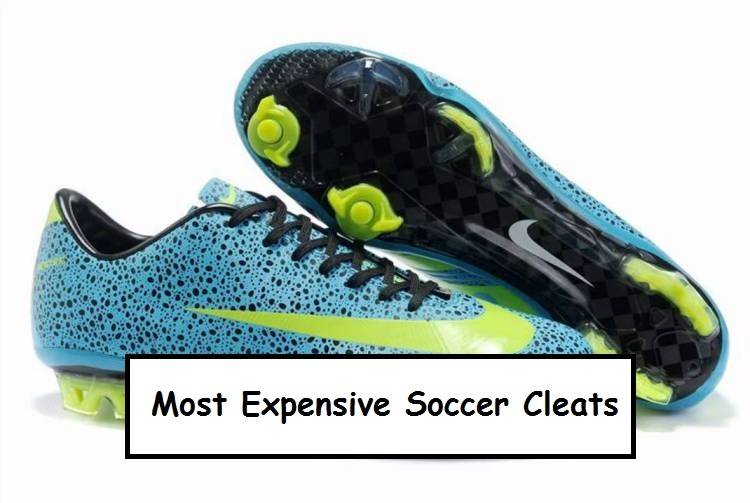 Prices have increased because soccer has become more popular, and more people are following it.
Because of that, there is also more marketing for soccer and, consequently, soccer cleats.
People want the latest and good things, so they have to pay the price.
The second thing that impacted the most expensive soccer cleats was the technology and new materials.
New cleats come with different materials, advances, corrections, and colors.
They have also started to build cleats depending on the different positions (Goalkeeper, Midfielder, Striker, Defender)
The third thing that had a significant impact on the most expensive soccer cleats is celebrities.
Here I mean famous soccer players. People like to watch and play soccer every day, following the most popular & best soccer players.
While watching them, they learn new things, see what they wear, and consequently want their best soccer cleats.
This is because marketing agencies employed by big Brand that produces soccer cleats (like Adidas, Nike, and Puma) contract with these famous players.
They are then promoting new cleats, which is how you see great soccer players on TV. This sure raises the price of cleats, right?
Who wouldn't like to have the cleats of their best soccer player, even if they are the most expensive soccer cleats?
Some of the Players that impact cleats
Now, I will tell you three players who have contracts with one of the big brands, so they wear their cleats while playing.
The brands made a step even further. Now they have also named some of their cleats after these famous players.
Cristiano Ronaldo

Lionel Messi

Neymar
Other famous soccer players wear those most expensive soccer cleats, but I haven't mentioned them here.
Read Next – Awesome soccer cleats you have to see!
Which Brand is doing better?
Of course, different brands produce soccer cleats, and there is a big competition between them.
I think three leading brands are producing soccer cleats: Adidas, Nike, and Puma.
These three brands put a lot into marketing and get a lot in return.
What do you think? Do you want to have the most expensive soccer cleats?
Which Brand do you like most? I prefer Adidas because I feel most comfortable in them.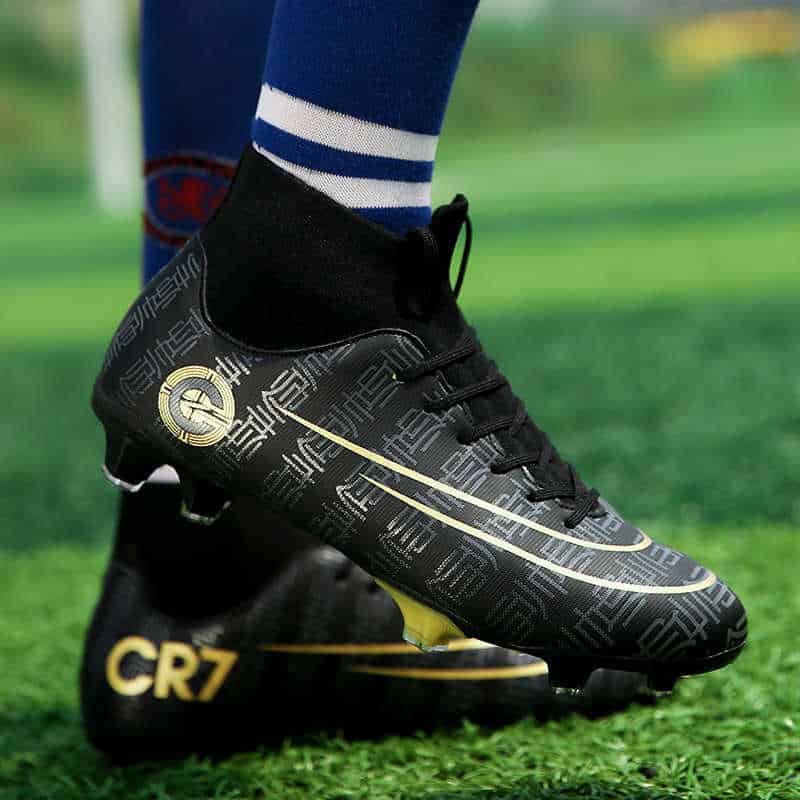 Anyway, I think those most expensive soccer cleats are of exceptionally high quality, and you can play & feel good in them.
Read Next – Most Expensive American Football Cleats
Which are the Most Expensive Soccer Cleats?
It is no secret that your soccer game is highly affected by your footwear when you play. Cleats alone do not make you a bad or good player, but they are vital if you want to benefit on the field. If you are a soccer lover, you are in the best place.
We will look at the most expensive soccer cleats on the planet. Some have comfort as their primary focus, while others focus on sports play. 
Here are some of the most expensive soccer cleats in 2022:
Nike Mercurial Superfly Leather FG Soccer Cleats
These cleats will turn you into the dynamic, explosive player you know you can be. The Nike Mercurial Superfly Leather FG soccer cleats specs leather upper and a one-piece, tongueless design, which gives a snug fit, enabling you to make the fast stops and turns required to rise above your competition. The ultra-soft leather gives an extra relaxed feel, ensuring your feet stay fresh and loose for the entire soccer season.
The Dynamic fit collar ensures a locked-down fit, while the contoured sock liner includes cushioning that will permit you to play at top performance late into the game. The carbon-fiber plate in the shoe is very responsive and enables you to hit your top speeds without an issue.
The direct-inject blades make you capable of executing the quickest turns and most technical plays on natural surfaces and firm ground.
Nike Jr Legend 8 Club Fg/mg Multi-Ground Soccer Cleat Big Kids At5881-600 Size 5 Pink
out of stock
as of September 23, 2023 4:40 am
Read Next – Under Armour Kids' Glyde RM Baseball Shoe
Adidas X 16+ PureChaos FG Soccer Cleats
Create utter chaos for your rivals with the Adidas X pureChaos soccer cleats. These boots are designed for soccer players who blow past defenders with agility and speed. There is no break-in time with these boots, featuring a techfit upper that molds to your foot.
The techfit collar stabilizes the ankle for a locked-in, supportive fit. The shoe specs a covered forefoot, permitting the laces to sit within the shoe, raising the accuracy of strikes on the ball and decreasing the chance of an errant shot or pass on goal.
Mainly designed, Non-Slip Grip (NSG) is a layer of raised dots on the boot's upper that increases ball control. The Purechasos heel lining and lightweight sprint frame outsole include stability even at your top running speed.
The alignment of studs on the FG chaos is mainly designed for complete control during all-out springing and agile maneuvering on vital ground areas.
Read Next – Best Soccer Cleats for Midfielders – Which are these?
Nike Magista Obra SE FG
The Nike Magistas is a famous cleat model, so it makes sense for Nike to create a premium model that dedicated fans can genuinely encourage. These are designed for creative midfielders, with Nike promising they will make you play almost as well as Ozil or Iniesta on their site.
One of the latest specs is its ACC technology. What does that mean for you? Whether you are playing in the summer or winter, you will benefit from the pitch because your feet's temperature is regulated by ACC – meaning the same level of relaxation in extreme situations.
The camouflage print is also a quickly recognizable and incredibly cool spec. It is not just a perfect print. It is a symbol of status as everybody on the pitch can view that you are wearing some of the top boots money can buy.
You will also find Flyknit on these soccer cleats, providing extra relaxation to play longer and harder. During those challenging, physical soccer games full of tension, you will feel safe and relaxed in the Nike Magistas as you get stuck in from midfield.
READ NEXT – Nike Superfly 6 Academy MG Soccer Cleats
Nike Hypervenom Phantom
The Nike Hypervenom Phantom II comes into its own when you sprint. Built for pace and agility, the Pebax base reinforces and supports your foot, so you are more steady at high speeds and less likely to get wounded. Even in wet situations, the firm ground studs keep you balanced, so you can dribble without hesitating whether you will stay on your feet.
The NikeSkin technology is one of the most impressive technology on these cleats. It is fragile and molds to your feet, almost as if you are wearing socks. This spec is more relaxed and complementary to your primary touch so that you can quickly trap the ball with improved control.
There is no denying that this is a cleat built for a more oversized footed dryer. You will find that the interior is highly accommodating and breathable. You might consider going a size down if you have slimmer feet.
Overall, the Nike Hypervenom Phantom cleats are very thrilling. With an excellent Flywire fit, Pebax base, and NikeSkin technology, the shoe oozes standard and provides a premium level of comfort that pays off on the soccer field. These boots are like having an extra teammate, providing agility, speed, and stability when you need them most.
Read Next – Nike Vapor Football Cleats
Nike Mercurial Superfly CR7 SG-Pro Soft Ground
Using Nike's remarkable FlyKnit technology, it is durable but relaxed. There is a perfect thickness to the boot that is still lightweight, so you get padding and protection and can still run at quick speeds without feeling like you are weighted down.
Flyknit also has another benefit; it is a flexible, elastic material. It is dynamic to be moving your feet, adapting and flexing when performing your expertise, dribbles, and fancy footwork. So every time you move your foot, the Flyknit moves with you, keeping your ankle supported but not too severe.
The stud pattern on the base of the cleats provides you with perfect traction and grip, performing amazingly well on wet and muddy ground. When you accelerate, you can feel the boot pushing with you to provide an extra speed boost while releasing the studs from the ground without any resistance or stickiness.
Overall, this is an excellent shoe with a lot of thrill. So, no wonder the Nike Mercurial Superfly CR7 SG-Pro cleats are such a high-end boot.
Read Next – Nike Mercurial Superfly VI Academy MG
I Bought the Worlds Most Expensive football boots
Read Next – Most Expensive Football Cleats