Men's molded baseball cleats are gaining status among adults because of their durability, versatility, and safety.
Molded cleats are made of hard or rubber plastic and cannot be removed from the shoe.
Wearing the appropriate shoes is always essential while you play on the ground. This is similarly true for every sport. But you can't just wear any pair of shoes and assume you will always be safe on the field.
As the field is full of turf, grass, and dirt, the pair of shoes must provide better traction and a smooth change of direction while running comfortably and improve your performance on the ground.
They come with the best baseball cleats to give players excellent grip while providing protection and comfort.
There are numerous baseball cleats, but the most common ones are metal cleats, turf shoes, and molded cleats. Each of them serves different purposes.
However, the most prevalent among baseball players are the molded cleats. So, today we will briefly discuss the molded baseball cleats below…
Read Next – Best Lacrosse Cleats for Flat Feet
What Are Molded Baseball Cleats?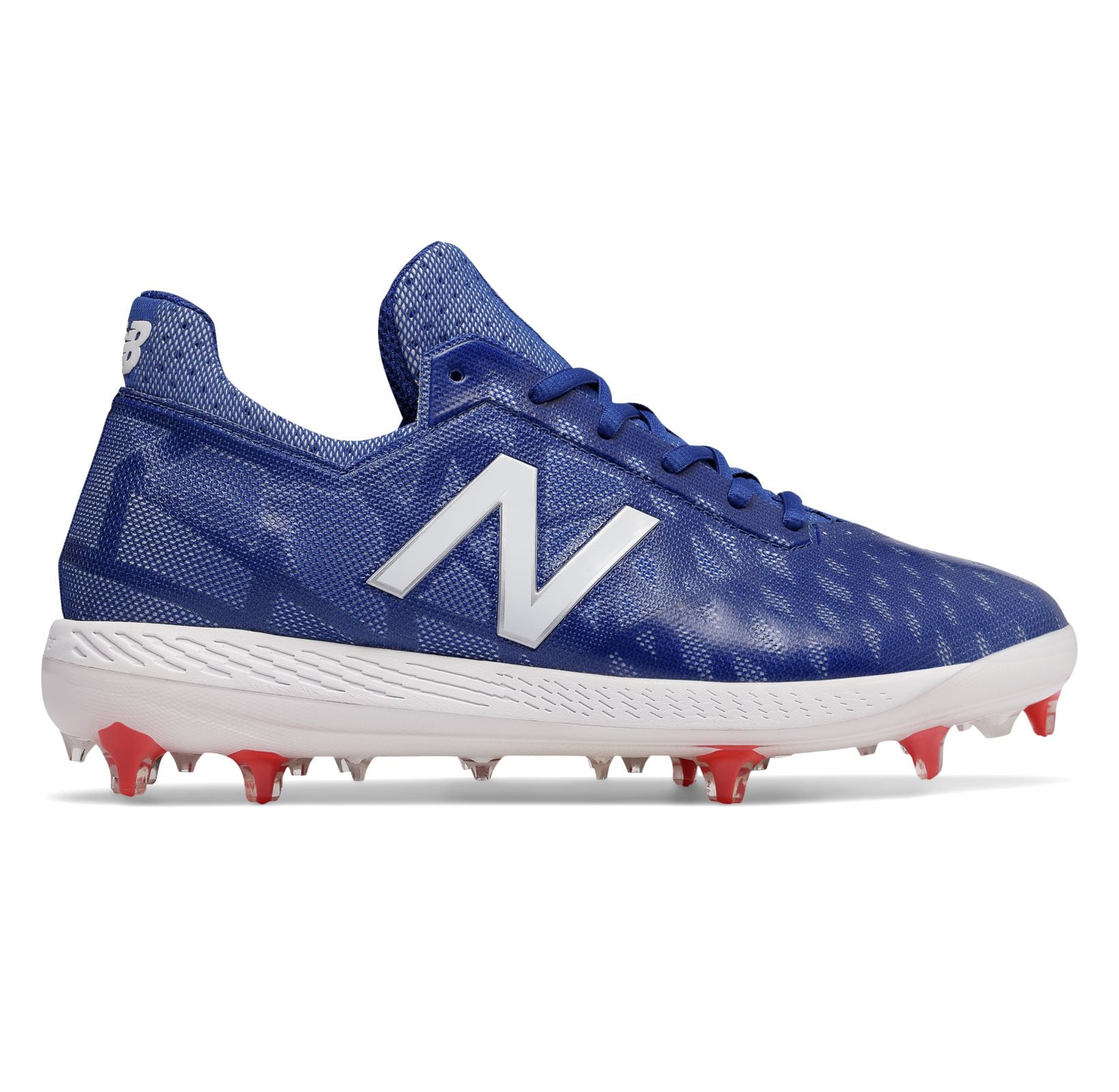 A molded cleats are a type of shoe with studs or spikes on the shoe's sole. These cleats or studs are generally made of rubber or plastic. However, there is a noteworthy difference between plastic and rubber cleats.
The Rubber molded cleats usually come with grooves and small protrusions around the sole's edges or in the middle part of the sole for soft rubber spikes.
On the other hand, plastic cleats have few or no grooves in the middle. They do have stern, thick plastic cleats at the sole's edge.
Wearing these molded cleats provide several benefits. They're pretty relaxed, which helps you play comfortably for a long time. Not only this, but molded cleats are also suitable for providing better support yet do not hurt other players as the materials used aren't as complex or stiff as other substitutes. The molded cleats help baseball players attain stability while running, changing direction, or moving on the field.
Initially, molded cleats were more widespread among youth baseball players since they protect while running and sliding.
But in recent years, more players, from local to professionals, have started to use these molded cleats. As you know what molded cleats are, let's learn about the top 5 ones to buy in 2022…
Read Next – Best Under Armour Baseball Cleats Our Top Picks
Top 5 Best Molded Baseball Cleats in 2023
Players, especially Baseball players, need the right pair of shoes to ensure they have sound footing and a better chance of achievement in the game. The best baseball cleats may not help you to hit a curveball. However, they can help you in a lot of other ways.
Even though almost all baseball cleats appear similar at first sight, they have a few differences. Understanding these differences will help you find the right pair of shoes to meet your style and comfort needs of play and your league's rules.
We have compiled this list of best baseball cleats to help you get the best out of a handful of options. It contains the information you need before buying the shoe, from price to materials. So, let's have a look at the list below…
Read Next – Best Kids Baseball Cleats Buying Guide
New Balance 3000 V4 TPU
Comfy and lightweight shoes for baseball players. It is among the most lightweight, comfortable cleats available on the market. These baseball cleats offer enduring support to keep the player going smoothly through every inning.
This shoe from New Balance is loyal to helping players attain their goals. It has been their goal for over a century. That is why they do not spend money on celebrity advertisements. They spend their valuable money on research & development.
New Balance is determined to make the best shoes for athletes to help them achieve the very best.
Pros
Molded cleats of this shoe are made with TPU for durability and comfort
It comes with a bootie design to deliver a fit for every type of player
Breathe well, and for this, thanks to the mesh or synthetic upper.
The foam midsole offers plush cushioning to energize and comfort the player's feet.
The ankle collar of this shoe is padded, which protects your ankle well.
Cons
Some purchasers find the cleats do not last long
New Balance Men's 3000 V4 Metal Baseball Shoe, Green/White, 5.5 M US
out of stock
as of May 22, 2023 10:53 am
Read NEXT – Top 5 Best Football Cleats Buying Guide
Under Armour Unisex Child Leadoff Low Rm Jr.
These inexpensive, durable, and comfortable baseball cleats from Under Armour are versatile entry model that fits almost all kids. Its Synthetic leather upper supplies excellent step-in ease with extra durability and beef-up.
The shoe's mesh tongue improves breathability and helps to keep your feet dry & cool throughout the game. It has an EVA midsole for additional comfort and dispersed cleat pressure. These molded cleats offer the best traction and durability for every field surface.
Pros
Lightweight
Unisex
Five colors available
Sturdy stitching
Excellent traction
Reinforced toecap
Padded heel & collar for additional overall comfort
Hardy rubber cleats
Cons
Not the most acceptable option for kids with wide feet
Read Next – The 10 Best Lightest Baseball Cleats 2022
Nike Hyperdiamond Kids' 2.5 Keystone
Best for quality and style, these baseball cleats from Nike are designed to last and are as relaxed as they are fashionable.
This Nike Hyperdiamond 2.5 Keystone Cleat is made of sturdy synthetic leather for a comfortable feel. This shoe's solid rubber outsole offers the perfect traction you will need throughout the play.
Pros
Lightweight.
Thick molded toe
Breathable design
Twelve cleats for each shoe for excellent traction
Durable construction
Supportive and cozy foam cushioning
Cons
These are only obtainable in black and red.
Read Next – Best Nike Baseball Cleats in 2022
Adidas Performance Wheelhouse 2
Numerous designs and sizes for all age groups of kids. This shoe performs similarly well on dirt and grass. Please show up on the basepaths with its lightweight Wheelhouse 2.
To customize the look, the shoe is prepared with a diamond shimmer upper, a graphic camo-print outsole, and numerous lace colors.
Pros
Three-stripe branding comes with an EVA insole as well as a lightweight midsole.
Excellent traction
Molded rubber outsole
Reasonable price
The Interior is cushioned for relaxed practice
Good durability
Cons
It tends to run narrow
It may have limited size accessibility.
Read Next – Under Armour Boys Leadoff Low Jr. Baseball Cleats
Adidas Afterburner 6 Grail MD
The perfect cleats for base stealers and anybody who wants good speed on the baseball playground. Getting the right pair of shoes for your kid's growing foot is significant.
And Adidas Afterburner 6 Grail, MD baseball cleats for kids offer all the traction and support a child requires for a good game.
Pros
Lightweight
Features an extensive lacing system
The rubber outsole offers adequate grip and traction
Cons
The insole is not as padded as some purchasers would like.
They are not that relaxed for wide feet.
Read Next – Best youth soccer cleats for the best experience!
New & Notable Baseball Cleats for 2023
Here are some of the molded baseball cleats to buy:
Nike JORDAN XII RETRO Baseball Cleats 
These Nike baseball cleats are produced of synthetic leather material.
Its Phylon foam midsole makes it lightweight and provides the highest cushioning.
The Nike Jordan retro baseball cleats have Pebax metal cleats, which offer much-required traction and durability while playing.
The metal spikes provide the best support and stability for the players.
Read Next – Jordan Men's Baseball Cleat
Mizuno 9-Spike ADV Franchise 8 Baseball Cleats 
The Mizuno baseball cleats are produced with suede, synthetic fabric that provides a distinctive look on the upper side.
The materials of the cleat make it more relaxed and also forever hot.
The spike type of the Mizuno 9-spike Franchise 8 is metal. The nine-spike franchise cleat makes it best for running than pitching because of the positioning of the nine spikes.
The Mizuno-9 spike ADV Franchise eight is made with a mid-top ankle which provides the area for the highest manipulation of the ankle, and this is why these Mizuno baseball cleats are perfect for running.
Read next – Best Baseball Cleats Size 7 Our Top Picks
New Balance 4040V4 Baseball Cleats 
The new balance 4040V4 is synthetic stuff on the top and outer sole.
It is also packed with full-length Revlite lightweight foam on the midsole.
The shoe is made with metal spikes, making it perfect for playing with grass because they provide high stability.
The collar of the cleat is mid-top of the ankle and provides the highest support.
It is made with a no-sew phantom fit on the upper part, which makes it lightweight and adds to the support factor.
Read Next – New BalancMen's PL4040v4 Molded Baseball Shoe
Baseball Cleat: 5 Best Baseball Cleats in 2023
Read Next – Mizuno Advanced Franchise Cleat
Which cleats are better for baseball?
Metal shoes are most popular amongst professionals for providing optimum stability. The cleats have thin metal tips to protect hard surfaces like dirt or grass. You'll gain more grip while walking without another kind of cleat.
What is the purpose of baseball cleats?
Classes or studs can be protruded from the sole to provide additional comfort on soft and slippery surfaces. These structures are either conical or bladelike and may consist of plastic, rubber, or metal.
What cleats do MLB players wear?
Metal cleats have some advantages, unlike rubber baseball cleats. There are disadvantages. Metal cleats feature small sharp metal components embedded inside their shoe soles.
Are soccer cleats OK for baseball?
Buy soccer shoes when it comes to children who want to wear them. Soccer shoe is acceptable in minor league baseball, but baseball shoe is not appropriate for soccer. In our Youth Soccer League, the referee is advised to inspect shoe cleats to ensure proper fit.
What's the difference between baseball cleats and football cleats?
Baseball clutches provide players with sufficient traction on the pitch while throwing, sand, or throwing. The cleat helps the player improve performance and is manufactured of metals or synthetic materials. Specifically, these Football Cleats provide protection and stability while also enhancing motion.
How To Choose The Right Cleat
Baseball has an inch count as in many sports – innings of paint and the runner hitting a tag. This inch of space can make it difficult to distinguish the winner or the loser.
There are so many advantages to playing in these tournaments that it is no surprise to see the best team in every situation. You'd like a cleat that allows easy and explosive movement on the basepath.
Cleats that give better traction depending on conditions in the field. Providing the support necessary to avoid injuries and pain. Baseballsavings is equipped with cleats capable of everything. Those pairs need to be picked carefully.
Metal cleats
Metal cleave is one of the most popular options for pro athletes since it offers excellent traction. These cleats feature thin steel spikes used to rub hard materials.
The grip will be less on your shoes when running with another cleat. This requires good safety awareness, so they are rarely allowed in little league games. Check out your league's regulations regarding metal cleats.
Choosing Your Baseball Cleats Based on Position
One of many things baseball players forget about is their position. Keeping cleats in a favored place may prove invaluable. Let's take a closer look and choose the right shoe for your situation.
Can I wear football cleats for baseball?
We do not recommend wearing football cleats at baseball games since the designs are not intended for play. Baseball cleats usually feature a front spike to help you get better forward traction.
BOTTOM LINE
Molded baseball cleats are way better than the normal ones for natural turf since they provide sufficient traction and improved performance while similarly offering the player the ability to start dashing and switch directions when needed.
So, molded cleats come with many benefits. Happy playing!
Read Next – Under Armour Men's Highlight MC Football Cleats