If so, I would like to show you my top picks for the year – before that, I'll show you everything you need to consider when making your purchase.
I'm' sure you'll see a pair you want to play with by the time you're done reading.
How To Choose Baseball Cleats
There are a few things to think about when purchasing this product, and I would focus on the following:
Type of cleat
Sizing
More minor features (comfort, ankle protection, durability, etc.)
The first thing you need to consider is what type of cleats you'll need, which comes down to needs. There are three kinds, and they are:
Molded Cleats: Molded cleats have rubber or plastic tips and are long-lasting and budget-friendly. You can use them on most surfaces, perfect in very muddy conditions. They don't grip the ground as well as metal, though.
Metal Cleats: These are the most popular for older players because they offer the best traction. They excel in dirt and grass but aren't the best on turf. Almost all the cleats on this list are metal.
Turfs are more of a practice shoe or best when you're at an indoor training facility – anywhere with an artificial surface.
After that, you have to get the correct size. Sizing a cleat is the same as sizing a shoe, but you want it to be snug with a cleat. You don't want your foot to move around a ton because you can get blisters that way.
Lastly, you need to focus on the more minor features of the product you consider ankle protection, construction (low, mid, or high), and durability. You want a cleat that will prevent ankle rolls that will last. Buying from a name brand will ensure you're getting the best, and that's all you'll see on this list.
Now that you know what to look for, let's look at my top picks.
Adidas Adizero Afterburner 4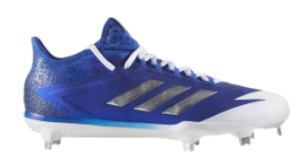 The Adidas Adizero Afterburner 4 is a cleat made to excel and is a product that all high-performing athletes should consider. If you purchase the Afterburner 4's', you'll love what you get here.
One thing I like about these cleats is the SPRINT SKIN upper. This upper ensures you're' locked in place and won't let your ankle move around – plus, it's' extremely lightweight. The combination gives you excellent ankle protection and won't slow you down.
If that's not enough, you'll like that these cleats feature:
The toe cap is abrasion-proof and won't' wear out from toe drag.
Snug bootie construction is another reason you feel so secure while wearing these.
The sock liner gives you maximum comfort. Not sure if you've worn uncomfortable cleats before, but it's' terrible, and this prevents that from happening.
LIGHT STRIKE Eva midsole adds even more comfort by padding strategically placed spots. Also, it's' extremely lightweight too.
Seven different metal cleats give you maximum traction and keep you from slipping.
Eleven colors are used to get your desired look and match your jersey and pants.
These cleats aren't' horribly priced, either. I wouldn't say they're cheap, but not overly expensive. I think they're priced precisely where they should be, and you'll come to that same conclusion if you decide on the Afterburner 4's'.
Read Next – Under Armour Boys Leadoff Low Jr. Baseball Cleats
New Balance L4040v3
The New Balance L4040v3 is another cleat that I know you'll love, and this is one of the most popular on the market.
Thousands of baseball players happily lace up these cleats and are satisfied with their performance.
One thing that jumps out with the L4040 is how lightweight they are if you're someone that relies heavily on speed. You can steal bases and beat out infield hits with these cleats on your feet. This is something you'll appreciate.
If that's not enough, you'll' as they come with:
Fantom Fit upper is one reason this product is so lightweight, providing good ankle protection.
A debris-free tongue keeps dirt from piling up in your shoe.
Toe-protect ensures this cleat won't' develop holes and easily lasts the rigors of an entire season.
The full-length REVlite RC midsole adds comfort, and your feet will feel good wearing them.
New Balance Data-Driven Outsole and eight metal spike layouts ensure you can grip any surface, and you will be able to plant and explode.
Fifteen different colors and designs, so you get the perfect look.
This is another product priced perfectly and won't break the bank. It also has over a hundred reviews, and almost all are overwhelmingly positive. If you want to see what all these customers are saying about the L4040, click below:
Nike Air Clipper 17
Anytime you purchase from Nike, you get a top-of-the-line, high-performing, and durable product – precisely what you'll get with their Clipper 17's'. People who decide on these cleats will be happy with what they get.
One reason for this is the Flywire cables found throughout this product. These wires provide a ton of support and ensure that you won't' roll an ankle or anything like that.
The last thing you want is to injure your ankle and end up on the bench – the Clippers will keep that from happening.
Some other aspects that you'll like include:
The synthetic leather upper is long-lasting and won't because distracting pain to your foot.
Comfort collar provides a ton of comfort and makes these products very enjoyable.
Ventilation throughout ensures your feet won't' overheat and sweat. This reduces the likelihood of blisters, which is the last thing you want to develop.
A Full-length Phylon midsole puts cushioning strategically on the inside for even more comfort.
Sockliner gives you an excellent snug fit and locks your foot in place.
Divots built into the outsole prevent clumps of dirt and mud from building up anywhere.
Nine metal cleats ensure you can grip the ground well and make the cuts needed to make the play or steal a base.
Usually, Nike products are the most expensive on the market, but that's not the case here. The Clippers aren't' cheap. They're certainly not the most expensive on this list. You're looking for quality. I would seriously consider these cleats.
Read NEXT – Lightest Baseball Cleats
Under Armor Highlight Yard
If you are someone looking for extra ankle support or have suffered from ankle injuries, a product you should consider. One thing that jumps out with the Under Armour Highlight is they have high tops and are probably higher than any other cleat on this list. They'll' protect this part of your body and any other cleat.
Even the high, they're very flexible and lightweight, too – they won't feel bulky or slow you down. It's' nice that Don does not have to sacrifice anything for maximum ankle support.
That's not it either, and there are plenty of other features, like:
Very comfortable, and every part of this cleat is designed to feel good.
A breathable ankle collar gives you a secure fit and improves airflow. Do not worry about over-sweating or anything like that with the Highlights.
Materials that add reinforcements throughout the product improve durability and ensure this cleat won't' tear or rip.
The Superfoam insole is another reason this cleat is so comfortable and absorbs shocks.
Charged cushioning gives you a boost in the speed department; you will feel very fast.
Strategically placed spikes ensure you get the best possible traction possible and won't' slip all over the place.
I think these are some of the best cleats you can get, and because of that, they're going to cost a little they are worth the extra cost, though. These cleats will have you playing at your absolute best out there.
Read Next – Best youth soccer cleats for the best experience!
Adidas Boost Icon 3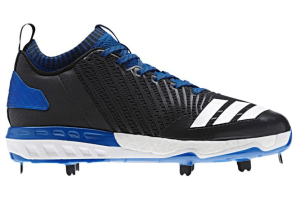 Here we have another product from Adidas, and the Boost Icon 3 is a cleat that everyone should consider. The only group I would say might want to look elsewhere is anyone with ankle issues.
I say this because these are low cut and won't provide much ankle stability – you can always pair these cleats with an ankle brace, though, if that's an issue. The combination of the two should give you all the protection you need.
Some other top features include:
The synthetic upper gives you an excellent snug fit, and your foot won't' shift around a ton because of this.
Most padding throughout the product is ultra-comfortable. Boost Icon 3 is one of the most comfortable cleats on the market.
Eight different spikes improve your traction and ensure you're at your absolute fastest if you rely heavily on the speyouLlull like this.
There are twelve colors, so you should have no problem matching them to your jersey.
Extraordinarily durable and having reinforcements in all the right spots – these cleats won't' wear out or tear during the season.
The Boost Icon 3 is one of the pricier cleats on this list. This is one of the most popular, and you'll like how they feel on your feet. I would consider this product if you have a little extra to spend.
Read Next – Adidas Adipower 4orged Golf Shoe Review
Nike Lunar Ultrafly Elit
If you want to save a little on cleats this year and spend well under $100, the Nike Lunar Ultrafly Elite is a product that can work for you. Even though these cleats are cost-effective, they still perform on the field; you'll like stepping into the batters' box with them on.
One reason for this is the Flywire technology found throughout this product. This technology ensures a nice, stable, and snug fit – this cleat is a part of your foot, not a separate footwear piece.
Some other benefits include the following:
Synthetic and breathable mesh. This means these cleats keep air moving, and your feet won't' move oversweet.
The tongue-less design creates an ultra-comfortable and sock-like fit. This is another reason it doesn't feel like you're wearing anything.
Kurim technology makes this cleat abrasion-proof and ensures it won't rip or tear.
Lunarlon foam is very comfortable and gives you a boost in performanYou'll feel like you can run and make cuts as fast as possible.
Combining metal and plastic cleats gives you the best of both worlds – the traction and gripping of metal with plastic's benefits.
It's pretty impressive what you're getting; this is one of the cheaper cleats on this list. The Lunar Ultrafly Elite also comes in a few different colors, and if you want to look at them all, click below:
Read Next – Best Under Armour Baseball Cleats Our Top Picks
Under Armour Harper One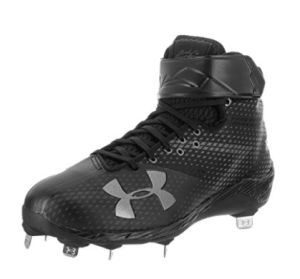 It only makes sense that one of the best baseball players on earth, Bryce Harper, would have one of the best cleats – the Under Armour Harper One is a cleat everyone can wear and be happy with the results.
One thing you'll like here is the top-of-the-line ankle protection. These cleats go higher than most, and you get a strap to tighten things up a little bit.- you'll' have a hard time rolling your ankle because of this.
If that's not the end, you'll, 'll' like that these come with:
A ventilated upper ensures that sweat doesn't' build and the likelihood of blisters decreases.
TRU coating adds a bit of durability to this product. It will last longer because of this.
The high-rebound insole is ultra-comfortable, and I won'tn't' mind wearing these all game long or in practice.
Charged cushioning midsole helps out in the speed department; you'll feel a step quicker with these on your feet.
Hybrid cleats give you the perfect speed, traction, and lightweight design combination.
This is another cleat that will cost a little extra to purchase. Do I think they're worth their higher cost? I do, and you'll come to the same conclusion. You'll' step to the batter's box with a bit of extra swag with the Harper One on your feet.
Nike Force Zoom Trout 3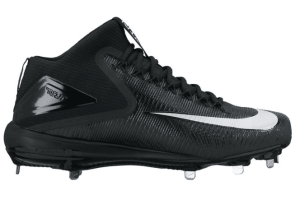 Here we have the third edition of the Nike Force Zoom Trout, the best one yet. One thing that's a plus with the Trout 3 is the mid-design. That means it gives you ankle support without adding weight or being uncomfortable.
Another thing I like about this cleat is the cleat layout and Pebax speed plate. With this plate, you get nine metal cleats strategically placed to give you the most traction and speed possible ll feel a little extra fast if you decide on Trout 3's'.
There are even more top-notch features, which include:
Nike skin technology makes this product very breathable, giving you good airflow. This decreases how much sweat builds up.
Flywire lace technology ensures you can lock your foot in place; you will feel extra secure.
Forefront Zoom Air is very comfortable; you'll like wearing these cleats.
EVA sock liner is another reason why this product is so comfortable. You probably do not think these cleats would be one of the more expensive since they're' from Nike and the signature shoe of the best player in baseball. That's not the case, though; these cleats are affordable.
Read Next – Best Extra Wide Youth Baseball Cleats For You
Under Armour Deception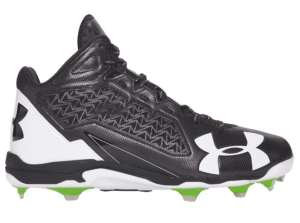 Let's say you're on a budget and don'tn't' want to spend a lot of money on your cleats this year. Let's also say that I don'tn't' want to give up much in the performance department either. Where should you turn if this is the case? The Under Armour Deceptions would be an excellent place to hang out.
These cleats are the cheapest on this list, and you can still wear them with confidence. This prodoesn'tsdon't look cheap, either. They have an intelligent design, and I'm' sure people will assume you paid over $100 for them.
Some of the top benefits of the Deceptions are:
Lightweight upper and UA Clutchfit wraps your foot securely, ensuring a snug fit. This upper improves breathability, too, which means you get some airflow.
Micro G cushioning is very comfortable and responsive at the same time. This mall feels a little quicker while wearing these.
The Pebax cleat plate ensures you get a good amount of traction; you'll be able to get a good grip.
Carbon steel cleats are solid and weigh less than other metals.
4D foam footbed absorbs shock and limits slippage in wet conditions.
Besides just being ultra-affordable, the Deceptions also come in 10 different colors.
No matter what color your jersey is or your pants, you should be able to find a pair of these cleats that match perfectly and look good.
Read Next – Under Armour Boys Leadoff Low Jr. Baseball Cleats
New Balance L3000v3
The New Balance L3000v3 is one of my favorite designed cleats on the market in terms of appearance. They almost look like regular shoes, and if it weren't for the metal cleats, you could probably get away with wearing them every day.
You'll be happy to know the L3000v3 performs very well. But appearaisn'tisn't the only thing. You need a product that will help you be the quickest and ensure you get the most traction possibDon'tdo. Don't you believe me? Check out the top features:
FantomFit mesh makes this product extraordinarily lightweight and ensures your foot isn't too sweaty.
A form-fitting tongue protects your foot from impacts and gives you more comfort.
REVlite RC midsole is very comfortable, and you'll enjoy having these on your feet.
Eight metal cleat configuration enhances the traction of these cleats; you'll be able to fly around because of that.
Seventeen different colors give you plenty of options.
This is another product that's not overly expensive and not cheap. You may not want to spend a ton, but you should never be cheap.
If you do, you'll get a low-quality cleat, which can lead to injuries and hurt your performance on the field.
Read Next – New Balance Men's 3000v4 Metal Baseball Shoe