All cleats are not the same! That is one of the first things that must be said on any page about cleats.
You cannot take any old pair of cleats, throw them on, and expect them to work for any objectives.
It is just simply impractical to think that way. It is a general sight to vie in the sports field all over the country.
There are so many different lacrosse cleats nowadays that it can be hard to know which is the best for you.
This blog post will help you narrow down the options and choose the best lacrosse cleat for your needs. When making our recommendations, we will consider price, fit, comfort, and durability.
So we've covered whether you're looking for the best value or performance. Read on for our top picks for the best lacrosse cleats on the market today.
The Best Lacrosse Cleats of 2023 
Here are some of the best lacrosse cleats to buy:
What to consider when choosing the best lacrosse cleats
There are many factors to consider when selecting the best lacrosse cleats for your needs.
Here are a few things to keep in mind:
-The type of surface you'll be playing on. If you're primarily playing on grass, you'll want cleats with shorter studs that provide good traction without tearing up the turf. Lighter studs will give you the best grip if you play on artificial turf or hard ground.
-Your position. Attackers and midfielders need lighter, more agile cleats for quick movements, while defenders and goalies need heavier, more supportive cleats for added stability.
-Your budget. Lacrosse cleats can range in price from around $30 to $200+. Choose a pair that fits your needs and budget.
-The style of play. Some lacrosse cleats are designed for specific games, like speed or power. Consider what type of player you are and choose accordingly.
Nike Huarache 6 PRO Lacrosse Cleats

The Huarache 6 is likely the type of cleat you will want if you want style, performance, and versatility for the best traction.
These are expensive, but they are top-of-the-line materials and engineering.
Nike uses a synthetic leather upper with synthetics to perfectly mold the shoe to your foot, while its Phylon technology in the midsole provides the best support and comfort.
These are considered mid-level ankle protection cleats, so these would be best for middies or any person who wants some ankle protection.
They also have Sonic Triangle studs for the best 360-degree traction.
Read Next – Nike Lacrosse Turf Shoes Vapor Pro 3
Nike Speedlax 5 Lacrosse Cleats
The speedlax cleats are built for speed without breaking your budget.
These cleats are best in the middle of the price range, so they should hold up reasonably well and do so without costing you your total savings.
These cleats are entirely synthetic and have been molded to give the user more relaxation and durability.
Its twin pull system locks your foot in place and protects it while providing you a three-quarter upper, which is halfway between a high top and a mid-level regarding ankle protection.
Read Next – Best Lacrosse Cleats for Flat Feet
Pro Tips: How to Choose Lacrosse Cleats
Read Next – New Balance FreezeLX 2.0 Cleat Lacrosse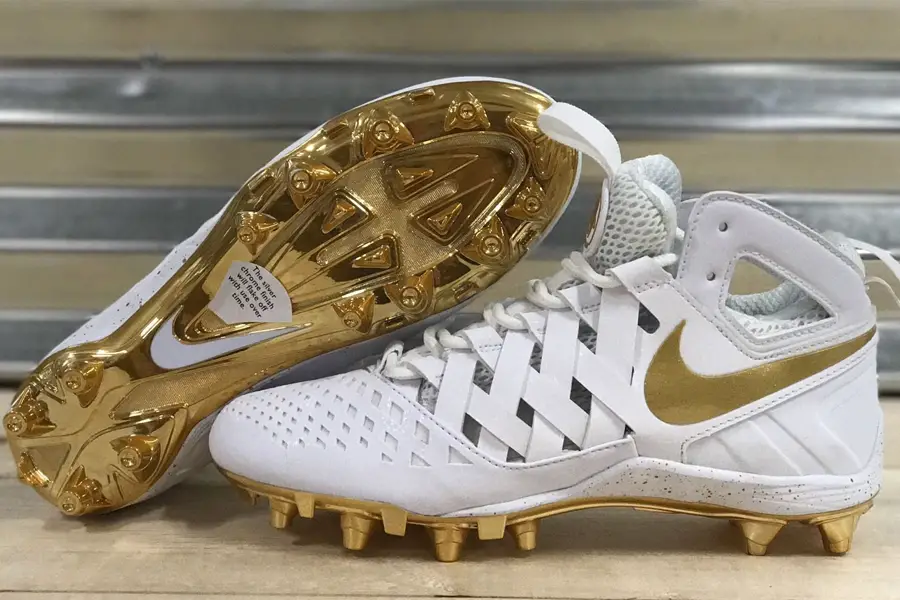 The lacrosse game is among the most addictive and action-packed fun in the United States of America. For lacrosse players, a pair of the best lacrosse cleats is undoubtedly the most vital gear to wear during the game. Thus, you must get yourself the best lacrosse cleats possible if you are a lacrosse player.
In Lacrosse, participants must have good speed and skill to deliver to the game. Perhaps that is the reason they should wear high-quality lacrosse cleats. A quality pair of lacrosse shoes provide enough traction and stability while making sharp turns on the field.
Thus, having a decent pair of lacrosse shoes will indeed transform the game in a better way. But it would help if you also cared for the cleats to get the most out of them. Below, we have reviewed our article's top 3 best lacrosse cleats to help you find the perfect pair.
Read Next – New Balance Men's BURN Low-Speed Lacrosse Shoe
Tips For Choosing The Best Lacrosse Cleats For Wide Feet
Just the way you need to wear soccer cleats for better performance. Similarly, you need to wear lacrosse cleats. The lacrosse cleats should be snug,g, so they don't slip around your feet. It would help to choose lacrosse cleats that act like your second skin around the feet. However, having a lacrosse cleat that is too tight will reduce your ability to play the game.
That is why, when you look for the best lacrosse cleat to fit your wide feet, you must ensure they are wide enough to make your feet comfortable while running on the field.
Your toes also shouldn't touch the shoe's ends, and your heels must be locked perfectly down in the back.
You'll get sores if your heel does not fit right, so do not get a pair of shoes that is too tight or loose.
Read Next – New Balance Men's BURN Speed Cleats
Best Lacrosse-Specific Cleats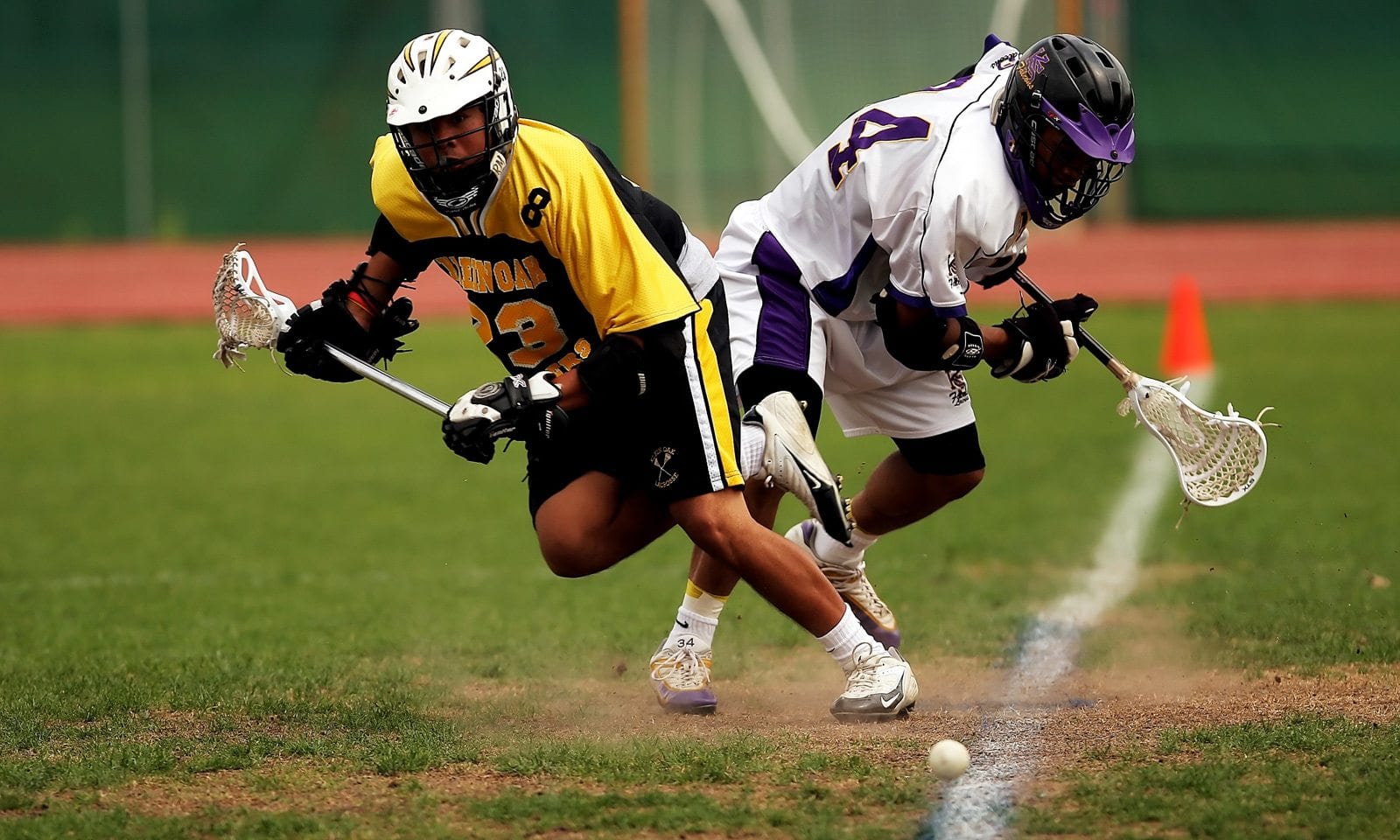 Are you searching for the best lacrosse cleat to help you become the most agile and quickest player on the ground? Our review below lists the top 3 best lacrosse cleats for their tremendously comfortable fit and the best traction!
These high-quality lacrosse cleats use breathable material around the ankle for better protection.
So, continue reading this article to find out our top reviews and recommendations of the best lacrosse cleats to make the fastest and most brutal cuts while playing Lacrosse on the ground!
Read Next – Adidas Lacrosse Cleats  
New Balance Freeze LX 3.0 Men's Lacrosse Cleats
The New Balance Lacrosse Cleats Freeze LX 3.0 is among the latest cleats and is made precisely keeping lacrosse players in mind.
What you will like the most about these lacrosse cleats is the traction they offer you while playing. Besides the standard studs on the lowest footplate, similar cleats are placed outside, angled outwards to help you with lateral cuts throughout the play.
Additionally, this Freeze LX 3.0s from New Balance uses breathable materials to dry the player's feet. These shoes also feature a hybrid tongue to keep the player's ankle in place whichever way you move during the play.
However, one problem constantly arising in reviews is that the eyelets of the cleats rip easily. Not everyone out there is claiming so. Only a few customers have claimed that so far.
If you prefer a mid-cut lacrosse cleat for yourself, these New Balance Freeze LX 3.0s cleats are a compact choice. They're among the most popular cleats for Lacrosse for a good reason.
Specifications
Colors:
Grey, White, Red/White, Navy/White, Black
Cut:
Mid-cut
Features:
For lateral cuts, there are Quixrail outer cleats
Designed precisely for a lacrosse game
Made using breathable materials so that the player's feet remain dry
A hybrid tongue offers extra support to your ankle
Pros
Mixed language for additional support
Cleats are designed especially for easy lacrosse movement
A wide range of color options is available
Very breathable
Cons
Bulky
Some customers claimed issues with the eyelet of the shoe
The Nike Alpha Huarache 7 Youth cleat outshines performance and looks. It utilizes mesh and lightweight leather to offer sufficient support despite staying breathable.
Similarly, a 3/4 length of phylon midsole offers excellent responsiveness and a skin-like feel without sacrificing the cleat's support.
This Nike Alpha Huarache 7 Youth Cleat comes with sidewall shovel studs on the outside to help with the lateral cutting.
These youth lacrosse cleats are a good choice for younger Lacrosse players. These cleats provide comfort, support, and enough traction to help you fly around the ground.
Specifications
Colors:
White/Red, White/Black, White/Royal, White/Gray
Cut:
Mid/low cut lacrosse cleats
Features:
The upper part is breathable and supportive
TPU cleat plate provides excellent traction and is flexible
Nike's leading youth lacrosse cleat
Pros
Sidewall shovel cleats are there to help with your lateral movement
Low profile forefoot delivers a great feel
Lightweight and supportive
Cons
It reported running small, so order a bigger size than your actual size
Read Next – Under Armour Highlight Mc Lacrosse Cleats
New Balance Men's Burn X2 Mid-Cut Lacrosse Shoe
The New Balance Burn X2 Mid-Cut cleat is a sleekly designed shoe durable for playing Lacrosse.
This Burn X2 from New Balance is made with thermoplastic polyurethane material to strengthen the sides and base, delivering protection without sacrificing the shoe's flexibility.
Functionally, this shoe values control and comfort. A unique plate works to make the most of downhill acceleration and speed. A plush addition works excellently with the innovative design of the shoe for a snug fit no matter how intense your move is.
The Burn X2 from New Balance runs narrow and with a sewn-in front. However, the shoe lacks the tongue necessary to untie the top to slip on & off. Moreover, the cleat runs below your actual shoe size.
New Balance lacrosse cleats boldly declare that this Burn X2 cleat is ideal for lacrosse players who build their play around a speedy first step. Thus, you may consider this a good cleat for quick-cutting and dodging attackmen.
Specifications
Colors:
White/Navy, Grey, White/Red, Black, White/Grey
Cut:
Mid-cut
Features:
Molded TPU plate supports your skin for external protection
TPR outsole is there for flexibility and durability
Double-Density TPU plate for stability, flexibility, and traction/grip
Pros
Interesting, unique design
Various color options are available
Supportive, comfortable fit
Extremely durable
Cons
Run narrow
It comes without a tongue
Run small
Read Next – New Balance Lacrosse Cleats LX 3.0
How to clean and maintain your lacrosse cleats
Assuming you have already purchased a good pair of lacrosse cleats, it is essential to take care of them so they will last long and perform well.
Here are some tips on how to clean and maintain your lacrosse cleats:
After each use, remove any dirt or debris from the surface of the cleats using a soft brush or cloth.
Choose the right cleaning products for your lacrosse cleats. Avoid harsh chemicals that can damage the material.
Clean the inside of the cleats regularly to prevent the build-up of sweat and bacteria. Remove the insole and wash it separately if possible.
Allow the cleats to dry completely before storing them away. Do not put wet cleats in a bag or container, as this can cause mold or mildew.
Store your lacrosse cleats in a cool, dry place when not in use. They should be stored in a shoe box or other breathable container.
By following these simple tips, you can extend the life of your lacrosse cleats and ensure they perform at their best each time you hit the field!
Are lacrosse cleats different from other cleats?
Lacrosse cleats are different from other cleats in a few key ways. First, they have a shorter and narrower spike than other cleats, which helps with quick starts and stops on the field.
Second, they often have extra padding around the ankle to protect against impacts from sticks and balls.
Finally, some lacrosse cleats also have a toe pick on the front of the shoe to help dig into the turf for quick direction changes.
Read Next – New Balance Burn Lacrosse Cleats
What type of cleat is best for Lacrosse?
If you're new to Lacrosse, you may wonder what type of cleat is best for you.
There are three main types of cleats: metal, plastic, and rubber. Each has its benefits and drawbacks.
Metal cleats offer the best traction on grassy fields and are ideal for lacrosse players who want to make quick cuts and turns. However, they can be slippery on wet or artificial surfaces, and they can also damage turf.
Plastic cleats are a versatile option that can be used on both natural and artificial surfaces. They provide good traction and are less likely to damage turf than metal cleats. However, they don't offer as much grip as metal cleats on grassy fields.
Rubber cleats are best for players using them on natural and artificial surfaces. They provide good traction and are less likely to damage turf than metal or plastic cleats.
Do you need lacrosse cleats?
There are a few things to consider when purchasing lacrosse cleats. Do you need them? What are the benefits? And how do you choose the best pair for you?
Lacrosse cleats can provide better traction and stability on the field, which can help you avoid injuries.
If you're new to the sport or don't play very often, you may not need lacrosse cleats. But if you play regularly or want to improve your game, they can be a worthwhile investment. They also help you move more quickly and change directions more easily.
When choosing lacrosse cleats, look for a comfortable fit and good support. You'll also want to ensure they're compatible with your lacrosse gloves and other gear. And be sure to try them on before you buy!
Can boys wear football cleats for Lacrosse?
The answer is no if you are referring to American football and Lacrosse. Lacrosse cleats have a softer rubber sole designed for quick starts and stop on artificial turf, while football cleats have longer metal spikes for stability on natural grass surfaces.
In addition, football cleats are generally much heavier than lacrosse cleats. Wearing football cleats in Lacrosse would likely impede your speed and movement and could increase your risk of injury.
Can you wear softball cleats for Lacrosse?
There is no definitive answer to this question as it depends on personal preference.
Some people find that they can get by wearing softball cleats for Lacrosse, while others find that they need the extra support and traction that lacrosse-specific cleats provide.
Ultimately, it is up to the individual player to decide what works best for them.
What cleats are best for Lacrosse?
M when it comes to Lacrosse, you need a cleat that provides good traction and support while also being comfortable enough to wear for extended periods. Many types of cleats are available on the market, but not all are created equal. Knowing which cleats are best for Lacrosse can be challenging, with many options available.
Fortunately, we're here to help. In this article, we'll give you tips on choosing the best lacrosse cleats for your needs.
We'll also provide a few recommendations of our own so you can get started on your search.
When it comes to choosing the best lacrosse cleats, there are a few things you'll want to keep in mind.
First, consider the type of surface you'll often play on. If you plan on playing mostly on grass fields, you'll want a cleat with longer spikes that can provide good traction.
However, if you play primarily on artificial turf or indoor surfaces, shorter spikes might be a better option since they won't get caught as easily and can help you move more quickly.
You'll also want to consider the level of support and stability you need from your cleats. If you have any problems with your ankles or knees, look for a cleat that offers extra support.
Will any cleats work for Lacrosse?
There are a few things to keep in mind when choosing lacrosse cleats. First, cleats for Lacrosse should be comfortable and have good traction.
Second, they should provide support for the ankles and feet. Third, they should be lightweight and allow for quick movements. Fourth, they should be durable and able to withstand the wear and tear of the game.
That said, any cleat that meets these criteria can work for Lacrosse. However, specific cleats are explicitly designed for Lacrosse, and those tend to be the best option.
If you're looking for the best performance on the field, you'll want to choose lacrosse cleats explicitly designed for the sport.
What footwear do you wear for Lacrosse?
When choosing the best footwear for Lacrosse, you must consider the type of surface you will be playing on.
For example, if you play on grass, you will want to choose cleats with shorter spikes or blades to provide traction without damaging the turf.
If playing on artificial turf, you will want to choose cleats with longer spikes or blades to provide a better grip.
It is also essential to consider the weather conditions when choosing your footwear. If you play in wet conditions, you will want to select cleats with good drainage so that your feet do not get wet and slip.
If you are playing in hot conditions, you will want to choose cleats with good ventilation so that your feet do not overheat.
Finally, it is essential to consider your personal preferences when choosing your footwear. Some players prefer lighter-weight shoes to move more quickly, while others prefer heavier shoes for added stability and support.
Ultimately, the best footwear for Lacrosse is the pair that provides you with the best performance and comfort while playing.
BOTTOM LINETheses Lacrosse mentioned cleats are among the best ones that have received many satisfaction reviews and are popular among many lacrosse players. You can't go wrong when you decide to buy any of them.
These cleats will provide unparalleled breathability and comfort as the shoes are made using mesh material and synthetic skins in the upper part.
The sock liner of these shoes provides you with the best ankle support when you wear them. These shoes feature several studs for traction when changing direction and accelerating speed.
We hope this article has helped you understand better what to look for when choosing the best lacrosse cleats.
With so many different options on the market, it can be tough to know where to start.
But if you keep in mind the factors we've discussed, like level of play, type of turf, and foot size, you'll be well on finding the perfect pair of cleats for your game.
So get out there and start shopping around!
Happy playing and shopping!