If you are looking for the best quality Lacrosse clean that will provide you the speed and agility you need on the field, then the NB Men's Burn Mid Speed Shoes are what you're looking for.
It is designed especially for Lacrosse and provides the support, stability, and comfort you need to get the best out of your game.
Construction and Material New Balance Men's BURN mid Speed

This New Balance Men's Burn Mid Speed, which is made for speed and power, features a TPU skin upper.
This makes cleats extremely lightweight and molds to your foot, providing the type of support and stability you need.
The fast wrap tongue of the New Balance Men's Burn Mid Speed is built specifically for Lacrosse field players with a mid-top sole construction.
The platform insert of the cleat provides the type of support, stability and cushioning you need to keep your foot comfortable and protected throughout the lacrosse game.
The FANTOMFIT of the New Balance Men's Burn Mid Speed reinforces the foot's position in the shoe but does not add any additional weight to the cleat.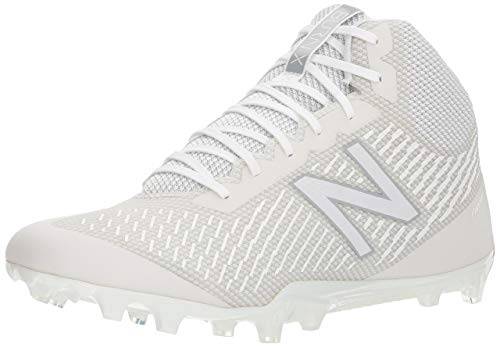 Sole
The TPR outsole in the New Balance Men's Burn Mid Speed combined with the TPU molded lacrosse cleats let for some of the finest traction in the Lacrosse game.
It is made to allow you to make the type of cuts you need to make when playing this extremely fast-paced game.
The plate is exclusive. It is designed and is ideal for the downhill player that needs to make the primary step count.
The extremely super traction lets for extreme acceleration and powerful push-offs.
The rubber sole of the New Balance Men's Burn Mid Speed makes it extremely durable.
Read Next – New Balance Freeze LX 2.0 Cleat – High Top Lacrosse Cleats
Pros
Excellent traction
Lightweight and durable
100% Textile and Synthetic
Specially Designed for superb acceleration and push-offs
Comfortable to wear
Cons
Some users complaint about the size
Final words
These extremely lightweight New Balance Men's Burn Mid Speed Lacrosse cleats are made to offer superb comfort, support, stability and flexibility required to keep up with a speedy game of Lacrosse.
It provides a unique plate that'll fit down-hill lacrosse players and allows for great push-offs and ultra-fine acceleration.
A top-class cleat like that'll allow you to perform at your very best on the playground.
The price of the cleats is also affordable compared to other brands.
Read Next – New Balance Burn Lacrosse Cleats
New Balance Men's Burn X2 Mid-Cut Lacrosse Shoe, WHITE/RED, 10 D US
out of stock
as of June 30, 2022 11:50 am
New Balance Men's Burn X2 Mid-Cut Lacrosse Shoe, WHITE/RED, 12 D US
out of stock
as of June 30, 2022 11:50 am
New Balance Men's Burn X2 Mid-Cut Lacrosse Shoe, Grey, 11 M US
out of stock
as of June 30, 2022 11:50 am
New Balance Men's Burn X2 Low-Cut Lacrosse Shoe, Grey, 9.5 M US
out of stock
as of June 30, 2022 11:50 am
New Balance Men's Burn X Mid-Cut Lacrosse Shoe, White, 9 M US
out of stock
as of June 30, 2022 11:50 am
New Balance Men's Burn X2 Low-Cut Lacrosse Shoe, Black, 5 D US
out of stock
as of June 30, 2022 11:50 am
New Balance Men's Burn X Mid-Cut Lacrosse Shoe, White/Blue, 11.5 D US
out of stock
as of June 30, 2022 11:50 am
New Balance Men's Burn X Mid-Cut Lacrosse Shoe, Grey/Grey, 14 D US
out of stock
as of June 30, 2022 11:50 am
New Balance Men's Burn X Mid-Cut Lacrosse Shoe, White/Red, 11.5 D US
out of stock
as of June 30, 2022 11:50 am
New Balance Men's Burn X Low-Cut Lacrosse Shoe, White/Red, 10 D US
out of stock
as of June 30, 2022 11:50 am
New Balance Women's BurnX2 Mid Cut Lacrosse Shoe, White/Grey, 10.5 Wide
out of stock
as of June 30, 2022 11:50 am
New Balance Men's FreezeLX 2.0 Box Lacrosse Shoe, White/White, 11.5 M US
out of stock
as of June 30, 2022 11:50 am