Are you tired of the painful blisters and discomfort that comes with breaking in new soccer cleats? Look no further! In this article, we will reveal some tried and tested methods to help you break in your soccer cleats quickly and painlessly. No more long and frustrating weeks of agony. Get ready to hit the pitch with confidence and comfort in record time!
Understanding the Importance of Breaking In Soccer Cleats
Breaking in new soccer cleats is essential for optimal comfort and performance on the field. When you first purchase a pair of cleats, they might feel stiff, rigid, and uncomfortable. This is because the materials used in the construction of the cleats need time to mold to the shape of your feet. Breaking in your soccer cleats not only improves flexibility and comfort but also helps to prevent blisters and foot injuries. It allows you to have better control, stability, and traction while playing, ultimately enhancing your overall performance on the pitch.
Choosing the Right Cleats for Breaking In
Before you start the process of breaking in your soccer cleats, it's important to choose the right pair. Different cleats are designed for various playing surfaces and foot types. Select cleats that match the playing conditions you regularly encounter, such as firm ground (FG), soft ground (SG), or artificial turf (AG). Additionally, ensure that the cleats fit your feet properly. They should be snug and supportive without causing discomfort or pressure points. Investing in high-quality cleats that are suited to your foot type and playing style will make the breaking in process much more effective.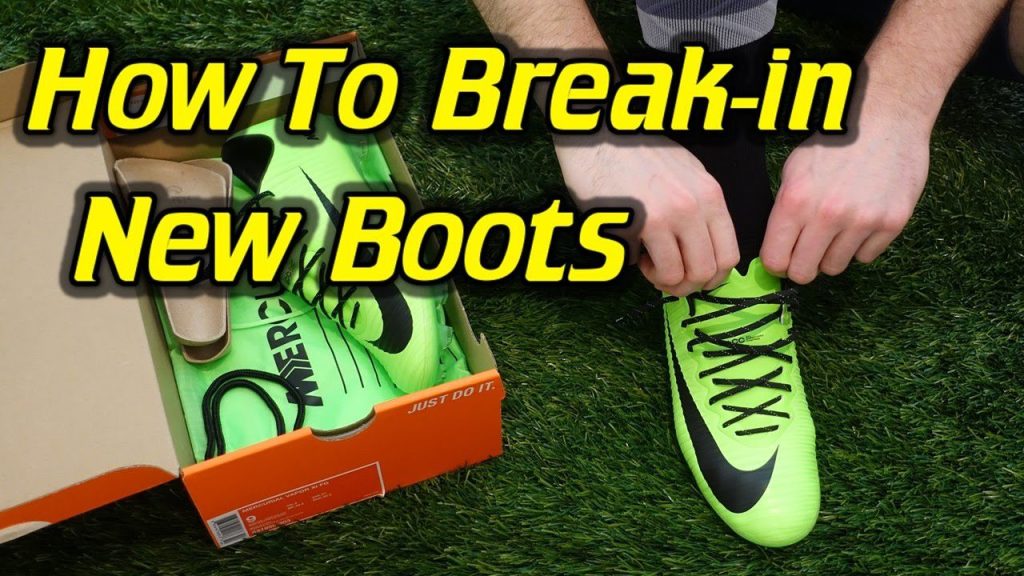 This image is property of i.ytimg.com.
Preparing the Cleats for the Breaking In Process
Before you begin wearing your new soccer cleats, it's important to prepare them for the breaking in process. Start by adjusting any laces or straps to ensure a secure fit. Next, inspect the cleats for any manufacturing defects or loose parts that could potentially cause discomfort or injury. If you notice any issues, contact the manufacturer for assistance or consider exchanging the cleats. Additionally, clean the cleats to remove any dirt or debris that could hinder the breaking in process. A clean surface allows the materials to flex and adjust more easily to your feet.
Wearing the Cleats Around the House
One of the simplest and most effective ways to break in your soccer cleats is by wearing them around the house. Put on the cleats and walk or jog on various surfaces such as carpet, hardwood, or tiles. This will help the materials to stretch and mold to the shape of your feet. Make sure to flex your feet and toes while walking to encourage movement and flexibility in the cleats. It's important to gradually increase the amount of time you wear the cleats around the house to prevent unnecessary discomfort or blisters.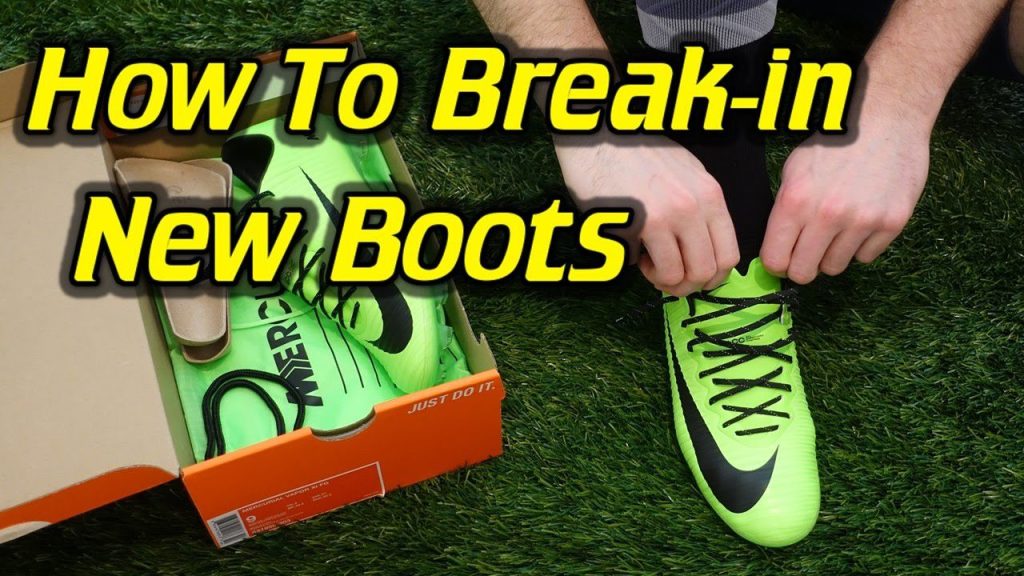 This image is property of i.ytimg.com.
Using the Cleats for Light Training Sessions
Once you feel comfortable wearing your soccer cleats indoors, it's time to take them outside for short training sessions. Start by using them during light exercises or drills, focusing on movements that replicate those you would typically perform during a match. This could include jogging, changing direction, or practicing ball control. By gradually introducing the cleats to more intense movements, you allow the materials to adapt and flex appropriately. Remember to listen to your body and give yourself ample time to rest if you experience any discomfort or pain.
Performing Flexibility Exercises
To further facilitate the breaking in process, incorporate flexibility exercises into your cleat-wearing routine. Stretching your feet, ankles, and calves before and after each training session will help increase the flexibility of the cleats' materials. Simple exercises like toe curls, ankle rotations, and calf raises can go a long way in ensuring your cleats mold comfortably to your feet. Additionally, consider using a foam roller or massage ball to target any specific areas of tightness or discomfort. The combination of flexibility exercises and wearing the cleats will expedite the breaking in process.
This image is property of www.soccercoachingpro.com.
Utilizing Wet Techniques to Speed Up the Process
If you want to speed up the breaking in process, consider utilizing wet techniques. One method is to wet your cleats using warm water and then wear them for a short period. The moisture will help the materials stretch and mold even faster. Alternatively, you can wear damp socks inside your cleats or soak your feet in warm water before putting on the cleats. The wetness will soften the materials and allow them to conform to the shape of your feet more quickly. However, be cautious not to overly saturate the cleats, as excessive moisture can cause damage or affect their durability.
Targeting Specific Areas with the Cleats on
To address specific areas that require extra flexibility or stretching, wear your cleats and apply pressure directed towards those areas. For example, if you feel tightness in the toe box or around the heel, gently press or flex those areas to encourage the cleats to conform. Be mindful not to exert excessive force, as this may damage the cleats. Slow, controlled pressure should be sufficient to gradually mold the materials to your foot shape. Repeat these targeted exercises regularly until you achieve the desired level of comfort and flexibility in the cleats.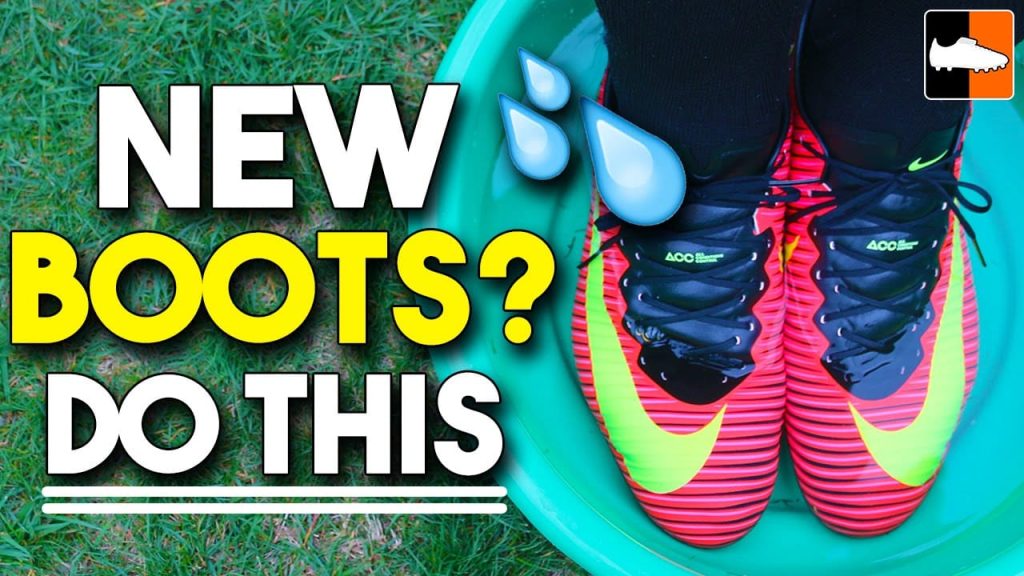 This image is property of i.ytimg.com.
Speeding Up the Break-In Process with Heat
Applying heat to your soccer cleats can help expedite the breaking in process. One popular method is to use a hairdryer on a low heat setting to warm the cleats. Hold the hairdryer approximately 6-8 inches away from the cleats and move it around to evenly distribute the heat. As the materials warm up, they become more pliable, making it easier for them to adjust to the shape of your feet. It's important to note that excessive heat can damage the cleats, so exercise caution and monitor the temperature throughout the process.
Taking Care of Your Cleats After Breaking Them In
Once you have successfully broken in your soccer cleats, it's important to take proper care of them to maintain their performance and longevity. Clean your cleats after each use to remove dirt, mud, and grass stains. Use a soft brush or cloth and mild soap to gently clean the surface. Avoid using harsh chemicals or abrasive materials that could damage the cleats. Allow them to air dry naturally before storing them in a cool, dry place away from direct sunlight. Regular maintenance and care will ensure that your cleats remain comfortable and supportive for future use.
In conclusion, breaking in soccer cleats is an essential step to ensure comfort, flexibility, and optimal performance on the field. By choosing the right cleats, properly preparing them, and gradually wearing them indoors and during light training sessions, you can mold the materials to the shape of your feet. Incorporating flexibility exercises, wet techniques, targeted pressure, and moderate heat can help expedite the breaking in process. Taking care of your cleats after breaking them in will prolong their lifespan and maintain their performance. So lace up your new cleats, follow these tips, and get ready to dominate the field in one perfectly fitting pair of soccer cleats.

This image is property of yoursoccerhome.com.