Are you ready to take your football game to the next level?
Well, look no further than Nike Customized Football Cleats! These personalized kicks are not only a style statement on the field, but they also provide numerous benefits that can enhance your performance.
From unique designs to superior comfort and support, customized football cleats from Nike have become a must-have for athletes of all levels.
In this ultimate guide, we will dive into the world of Nike Customized Football Cleats, exploring different styles, tips for customization and care, and where you can get your hands on these game-changing shoes. So lace up and be ready to unleash your inner athlete with Nike Customized Football Cleats!
Here are some of the best Nike-customized football cleats to buy:
Nike Kid's Alpha Menace Shark BG Football Cleats
The best Nike football cleats for kids is the Nike Kid Alpha. As you may know, this series of Nike is perfect for fast and uncanny movements.
And that is why this item is the top for your children to express their passion for football.
This item comes in different sizes for pretty to big kids. But it comes with just one color mixture of black, metallic, and white silver.
The vital thing here is the foam cushioning design. Your kid's bone system is not as thorough as expert players.
Read Next – Nike Alpha Menace Pro Football Cleat
Nike Men's Force Savage Pro Football Cleat
This pair of cleats is best for a lineman because of the support it can bring to your body.
Nike featured these cleats with comprehensive support, including heel, arch, and ankle. And thanks to this supportive spec, it is perfect for recovering from injuries.
And last, its outsoles have unique studs for excellent traction and flexibility simultaneously.
And they fit the size right, so your feet will forever be relaxing inside, and you do not need to hesitate about downsizing and upsizing when buying the shoes.
Read Next – Nike Men's Force Savage Varsity Football Cleats
Nike Alpha Menace Pro Mid Men's Football Cleats
According to some expert trainers, the Nike Alpha series is the top choice for players who must move fast down the gridiron and evade the defense.
This pair of cleats are perfect for linebackers and running backs because it has triple-sided studs.
Hence, it lets you move fast and make multi-directional cuts with stability.
And last, it comes with synthetic and meshed upper skin. So it is more breathable and more substantial than other materials.
As an outcome, you will feel relaxed during extended training time.
CUSTOM OFF WHITE SUPERFLY SOCCER CLEAT TUTORIAL
Read Next – Nike Men's Alpha Menace Shark Cleats
5 Best Nike Customized Football Cleats
You have to think and prepare to play like a pro. This includes a good selection of football cleats, so you'll always be ready for any surface.
Don't let your performance suffer dominate the pitch in all weather conditions. We advise you on what type of soles for Nike football cleats to maximize your performance and overcome all your opponents.
So, here let's know about the five best Nike customized football cleats.
5 Best Nike Customized Football Cleats:
Here we bring you the five best high-end Nike customized football cleats to start the season wearing one of these spectacular models.
As football fans and players for years, we will give you details of each football boot. See these below…
Nike Vapor Untouchable Pro 3:
The Nike Vapor Untouchable Pro 3 is one of the most resistant football cleats of the season, thanks to their material: the highest quality leather. This allows the shoes to withstand movement, making them durable in the long run.
At the same time, the leather allows them to withstand the ball's impact easily. You can kick it at any angle or position with complete confidence, as regardless of the force of the blow or its speed, it will not take the slightest damage.
However, leather does not prevent these shoes from being soft. These boots incorporate a fabric lining, so the sensation on the feet is pleasant and allows the wearer to play without discomfort.
The sole of this boot is made of solid and durable rubber. It is designed for all surfaces to use the shoes on multiple pitches, stadiums, and football fields without changing the experience. Also, this material is intended to step more comfortably, and your movements are faster.
Nike Men's Vapor Untouchable 3 Elite Football Cleat (Black/Black/Black, Numeric_10_Point_5)
as of September 22, 2023 12:55 pm
Read Next – Lime Green Football Cleats
Nike Vapor Edge Shark:
The Nike Vapor Edge Shark is a football boot designed to provide you with the most excellent comfort you could wish for while playing a game. For this, it uses the best technology, which ensures a perfect fit and prevents them from moving more than necessary.
These boots resist contact with the ball without your toes feeling it. At the same time, they are hard enough to kick it with the complete certainty that it will shoot as far as you intend. That quality makes these shoes advantageous for dominating the field and the ball.
A Control Frame is built into these boots. An external heel cup and stability arch serve this function. Both elements keep the foot at an angle that does not cause pain, even after hours of play.
In the same way, the two come together to prevent and protect you from any fracture in the event of a fall. In addition, there is also an FG sole. It works perfectly on both artificial and natural grass. This makes the boots your perfect companion for any game, regardless of the type of ground where they will be played.
Read Next – Under ARMOUR Custom Youth Football Cleats
Nike Alpha Menace Elite 2:
Nike Alpha Menace Elite 2 is a model of football boots designed to be worn practically every day. This is thanks to its synthetic material, which is present both inside them and outside.
The material, the lining, and the sole are synthetic. This gives the boots formidable resistance against grass, weather, and the ball's impact. At the same time, as it is not a caloric material, you can use these boots without feeling your feet hot, even in the most vital hours.
Buying these boots gives you a lace closure system adjusted to the classic model. This choice allows you, as a player, to put your shoes on and take them off in seconds, saving you time when you go out to play.
A set of flat heels has been incorporated into this model to provide excellent stability on any turf. In conjunction, each heel was distributed in points that allowed you to step strong and balance your weight continuously.
This characteristic allows you to run, jump and kick with total strength. No matter how much you use or how fast you receive the ball, these football boots will withstand impact without causing discomfort.
Read Next – What are the Best Nike Football Cleats? Our Top Picks
Nike Men's Alpha Menace Pro 2:
The Nike Men's Alpha Menace Pro 2 are string boots with socks for dry or wet grass pitches. They are high-end and are intended for the player to exploit their speed to the maximum due to their design and composition of the studs distributed more efficiently on the sole part. It has a roughness that facilitates the shot and provides greater sensitivity.
You can master all your movements without fear of an accident. They are designed with four edges for perfect traction.
This element makes the Nike Vapor Edge Shark a safe, balanced, and firm tread during turns, runs, braking, and any short or long movement.
Nike Men's Alpha Menace Pro 2 stands out for its blow's power. This is due to the synthetic material and the toe, which is reinforced. Both features are configured in the possibility of kicking as far as you need, although without losing the direction of the ball or its trajectory.
With these football cleats, you also control your energy when running. You can go from one place to another while the shoes allow you to move smoothly and comfortably.
Read Next – Nike Vapor Football Cleats: What To Know Before You Buy Them
Nike Men's Force Savage Pro Football Cleat
Nike Men's Force Savage Pro Football Cleat is one of the most aesthetic of the brand's entire range of football boots.
Undoubtedly, the details make the difference in this type of footwear, providing a plus in your movements and the sensitivity when hitting and receiving the ball—focused on players looking for the latest sports equipment adapted to all surfaces.
The Nike Men's Force Savage Pro Football Cleat has a lace closure system. They guarantee stability and speed when putting them on. The first point is ensuring that your shoes will not move when running or kicking the ball.
The studs on this model are among the most aerodynamic on the market. With its 2 centimeters in height, they promise a solid and stable footprint, with an unmatched speed of action.
Also, being flat, they are much less noticeable, so you can spend hours using them without realizing it.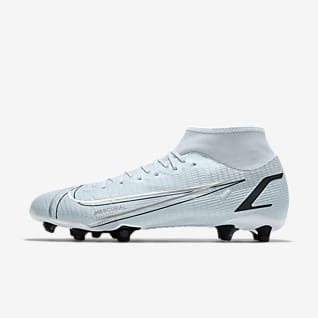 Ankle and foot injury is unavoidable with such an impactful and competitive sport as football. 15 Out of 10,000 footballers experience such issues. Thus, you need to provide yourself with the finest football cleats available.
However, with loads of options with various brands, you'll spend a lot of effort and time searching for the best one.
So, to save time and effort, we have compiled a list of the top 3 best Nike customized football cleats in this review article below.
Read Next – Nike Vapor Football Cleats: What To Know Before You Buy Them
List of Best Nike Customized Football Cleats
Cleats are an essential piece of tool in football. Irrespective of the level or position of the play, every footballer must have a good pair of football cleats fitted to their precise work to perform their best.
Below, we have assembled the top 3 best NIKE customized football cleats to buy in 2022. Let's look at the top 3 best NIKE football cleats below…
Nike Alpha Menace Men's Pro Mid Football Cleat
If you wish to stand out on the ground, Nike customized football cleats may be the correct answer. Buying the Nike Alpha Menace Men's Pro Mid football cleat will make your feet very comfortable since their support and performance are undoubtedly very useful.
The cleat's outsole plate is one of the most flexible outsoles available. Footballers love this feeling while using cleats since it offers them more confidence and security and allow them to play tension free.
This pair of cleats is certainly alpha and exerts its sovereignty over any portion of terrain it faces, offering the superior footballer traction on the ground, sticking on every single cut. It similarly looks pretty good in an elegant sense of the word. Thus, you won't be disappointed.
Advantages
This modern NIKE football cleat shows that the manufacturers listen and learn what their users say.
Thus, these Nike customized football cleats come with a lovely spring feel while you go out there on the field wearing these cleats. These cleats also boast a trustworthy and reliable grip when the footballer has to make sharp cuts to get to the key positions.
You'll feel safe even while playing on a potentially-slippery field because of the ground-fixing details of these Nike customized football cleats.
Similarly, this cleat won't break your bank even after having the noticeable features it seems to have and willingly presents to its user.
Disadvantages
This isn't a top-tier football cleat as soon as it comes to protection delivered to your ankles, and thus, injury-prone footballers should be mindful of this before buying.
The cleat's mid-to-high-top collar seems to often cause ankle discomfort to footballers prone to handling such things.
Nike Men's Force Savage Varsity Football Cleat
As soon as it comes to youth football cleats from Nike, this's a pair that you certainly can't go wrong with. Also, remember that long football cleats are among the essential features a footballer must consider while picking his cleat because of the grip required to break through or block the defense for a sack.
Similarly, the extra ankle protection delivered by these football cleats makes them preferred for footballers in this position, as they must twist their feet almost all the time. Obtainable in a wide range of color options, they'll go with any team's color combination.
Although they might look more like a pair of basketball shoes instead of wide receiver cleats for football, you'll soon find they're ideal for protecting your leg and offering that much-required grip on turf or grass.
Advantages
It comes with a synthetic upper, a unique Lunarlon foam midsole
Delivers great adding for long training days
The TPU plate of the cleat is conceivable without a peer as soon as it comes to lightweight and superb durability.
These Nike customized football cleats are developed for individual accuracy, and the Flywire cable design works to seal them tight so that the user never needs to fear them slipping off.
The shoe size appears to be pretty much on point
Disadvantages
A good proprietor would have to appropriately know how to maintain these football cleats as they appear to be sometimes able to fall out after a few usages if mistreated.
Nike Vapor Untouchable Men's Pro 3 Football Cleats
Among the most valuable things about this Nike Vapor Untouchable Men's Pro 3, Football Cleats was mainly developed with acceleration in mind.
The manufacturers accomplished this, whereas using high-quality material and lightweight parts count to the product's efficacy in fighting foot fatigue and supporting the footballer.
It even utilizes mesh, one of the most breathable fabrics, when freeing your foot while wearing a football cleat. Using carbon fiber plates in the cleats is a signature of quality as this nearly alien-like fabric is renowned for being excessively tough yet relatively easy to wear and very lightweight at the same time.
These Nike customized football cleats are tough and durable cleats that aren't very difficult to get the hang of since they are easy to use and light in maximum terrains.
Advantages
The unique PORON footbed material is excellent for comfort and a lightweight feel.
Combats moisture and odor inside the shoe
It provides a high level of grip, making the pair of cleats good enough for quarterbacks, lock-down corners, quick-running receivers, and even linebackers.
Look incredibly cool and is put together nicely to have the perfect package.
Disadvantages
The only objection is that this cleat seems pretty prone to grass pigments.
Read Next – Best youth soccer cleats for the best experience!
BOTTOM LINE
Ultimately, we can say that Nike currently offers some of the best football cleats.
And our top choice for the NIKE customized football cleats is the Nike Alpha Menace Men's Pro Mid Football Cleat.
To get the best performance, have the best cleats on the field!
Read Next – Nike Men's Vapor Shark 3 Football Cleats
Where to Buy Nike Customized Football Cleats
Looking to unleash your inner athlete with a pair of customized football cleats from Nike? You're in luck! With the rise of customization options, you can now get your hands on personalized kicks that not only reflect your style but also enhance your performance on the field.
So, where exactly can you buy these coveted custom cleats? The good news is that there are several avenues available for you to explore. First and foremost, check out Nike's official website. They offer a wide range of customization options, allowing you to choose everything from color schemes to personal logos.
If you prefer a more hands-on experience, head over to one of Nike's flagship stores or authorized retailers. Here, you'll have the opportunity to speak with knowledgeable staff members who can guide you through the customization process and ensure that your cleats fit perfectly.
For those who enjoy online shopping convenience, consider checking out reputable sports retailers like Foot Locker or Eastbay. These websites often carry an extensive selection of customized football cleats from various brands, including Nike.
Additionally, don't forget about sneaker reselling platforms such as StockX or GOAT. While they primarily focus on sneakers, they occasionally feature limited-edition custom football cleats that collectors and enthusiasts may be willing to part with.
No matter where you decide to make your purchase, always remember to do thorough research beforehand. Read reviews and compare prices across different platforms so that you can find the best deal without compromising quality.
Now that we've explored some options for buying custom Nike football cleats let's move on to other important aspects: how exactly can you customize them?
Note: This blog section does not conclude or summarize any information; it simply provides an overview of where readers can buy Nike customized football cleats while also mentioning some popular retail outlets and online platforms for their convenience.