In the market for a new pair of cleats to improve your game? These are the best women's soccer cleats you need to have.
There are plenty of soccer cleats that explicitly designed with women in mind. But which is the top brand of the best women's soccer cleats?
Top 10 Best Soccer Cleats For Women in 2020
This article highlights the top ten options for footwear, and the brands that shine are Nike and Adidas. All made with high-quality materials with the intention to bring out your best playing abilities, these women's soccer cleats are high for everyone from beginners to the pros.
Nike Cleats Hypervenon Phantom
Plus, any of these cleats would be a great gift for soccer fans for any occasion.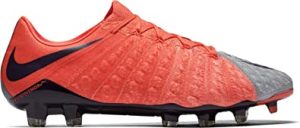 To begin our list of only the best women's soccer cleats, this is just the first of many Nike cleats that are quality footwear. This third addition to the Hypervenon Phantom line is not only sturdy but designed specifically to support the best footwork and shooting.
Created with Flywire for the sides of the upper, it also has added texture to create a dampening touch that will set up each of your shots with ease. Plus it has a full Flyknit upper to provide a close fit to your foot, almost like a sock.
Adidas Cleats Performance Ace
Adidas is also another powerhouse in the cleats market, and the Performance Ace for women is no exception. Though they are known for their exceptional indoor soccer shoes, their cleats are also gems. As one of the best women's soccer cleats, this footwear has a synthetic sole and soft lining.
Each move will feel comfortable in this pair. Plus it is designed to perform best on firm ground or artificial grass. You'll never worry about traction again, as the outsoles are extremely flexible.
Adidas Cleats
Featuring a round toe, lace-up vamp and back pull-tab, this Adidas pair of cleats will be sure to amp up even the greatest soccer player.
As a classic color scheme and nothing too flashy or over the top, this cleat will complete any team's uniform. Plus, they're super comfortable, versatile, and flexible.
Nike Cleats Mercurial Superly V FG
Another Nike choice is, without a doubt the Mercurial Superly V FG, which is also one of the best men's soccer cleats. As one of the best women's soccer cleats, this footwear is customizable, and you can even add your name to the inside of the heel, as well as your number.
The Fluknit upper is a close fit to the foot, plus the Dynamic Fit Collar supplies ankle support. You won't want to wear any other pair, as the new speed ribs wrap the foot for stability and control.
Adidas Cleats Predator

Adidas is known for their simple yet powerful designs that will catch anyone's eye, while still being subtle.
The Predator has been known as a game-changer, and the newest addition is not an exception.
The sock-like fit will allow for a natural shape and fit, while the mid-cut collar is a heel tab, for easy fitting. Plus the Primeknit is so soft and comfortable that you'll barely feel the shoes on your feet.
Nike Cleats Tempo Legend VII FG
The Tempo Legend VII FG by Nike is one of the best women's soccer cleats because of the new technology incorporated into their design and created with kangaroo leather material and a foam skeleton, the shoe will fit close to the foot, while feeling like a second skin.
Soft and comfortable, the fit mesh lining and nylon backer also contribute to the versatility of the shoe. Plus, each shoe is created with a Flyknit tongue, which creates a fit that feels as if it is custom made for you.
The built-in bandage system is perfect for controlling the ball, as well as passing and shooting. Plus, the agility outsole is intricately designed for playing on firm ground.
Nike Cleats Magista Orden II
Our final Nike selection on our list of the best women's soccer cleats is the Magista Orden II DF FG. Each texture is designed for ample ball control and rotational agility.
The upper is made with Kangaline to feel skin-like and mold to the foot. The midsole is a sock liner. And the outsole is a full-length TPU.
What more could you need from a pair of cleats?
Adidas Cleats Goletto VI FG
Adidas does it again with the Goletto VI FG. This pair has a synthetic leather upper and soft textile lining. Made of the most lightweight and comfortable materials, the cleats have a firm ground outsole for the best performance possible.
Plus, the die-cut EVA insole has supportive cushioning and a comfortable feel.
Let's finish off our list of the best women's soccer cleats with our wildcard. Who knew New Balance had trustworthy, quality cleats? Plus they are pretty affordable. The upper is made with a kangaroo leather that is quilted while the outsole is created with nylon.
The shoes are comfortable, flexible, and, most importantly, will aid you in controlling the ball, and ultimately the game.
Last updated on November 27, 2020 4:26 pm