Although baseball and football players all wear cleats to grip the playing surface, baseball and football cleats are highly different.
Cleats dig into the field and offer traction required for athletes to remain surefooted and move fast, but baseball and football cleats differ in many important ways.
Baseball vs. Football Cleats
Design & style
Football cleats tend to be heavier and more supportive because of the more serious physical toll the game takes on athletes and their equipment.
Baseball cleats are lighter and do not generally go as high up the ankle as football cleats. Anyway, there is a range of styles to fit individual preferences.
Manufactures
High-profile firms like Nike, Adidas, and Rebook make football and baseball cleats.
Cleat styles
Cleats are either molded to the detachable shoe.
Although both sports can use shoes with plastic studs, baseball players and permitted to use metal spikes.
Stud length
While the studs on baseball cleats are about the same length, football cleats provide a more comprehensive range of cleat lengths.
This is due to positioned variations and perfecting with differing playing surfaces.
Positional differences
In football, linemen tend to favor cleats with extra support in the ankle, while wide receivers and running back favor cleats that permit an excellent movement range.
This is similar to baseball, where quicker players generally pick lighter cleats while power hitters and pitchers may pick cleats with more support.
You can either purchase a detachable cleat or buy a molded cleat shoe.
The studs in the cleats are of the same length as the cleats, but due to the player's place, the studs of the cleats change in size in football.
The size of the stud also depends on the ground where you will play the match.
Read Next – What are the best baseball cleats?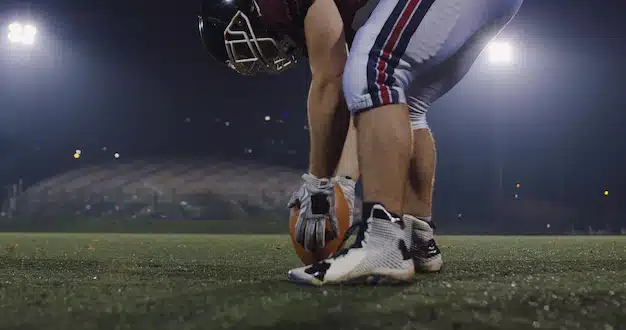 Many people wonder if there are any differences between football and baseball Cleats. Football and baseball Cleats are shoes that are different in nature and function. In this article, let's know about the difference between football and baseball cleats.
To wear the right Cleats for the right sport, read the following article for information. Call them clips, stilettos, or just fancy shoes, the technology in sports equipment has evolved dramatically.
Any sport such as football and baseball that is played on the field requires special shoes so that the athletes do not lose their balance. Frequently, the ground can be slippery due to dew drops on the grass or mud, and it can become a little dangerous for athletes to play on. In such cases, cleats under the soles of the boots will help to avoid this problem.
To determine which cleat is similar to the boot's sole, you will see several studs or humps at specific positions. These humpbacks are responsible for providing accurate performance to athletes in time.
adidas Freak Carbon Mid Black/Night Football Shoes 12
out of stock
as of September 26, 2022 1:22 pm
What Is Baseball Cleats?
Specially designed for playing baseball, these Cleats have an additional spike on the toe that assists the player with getting other leap influence.
Shoes are lower sliced for baseball to permit more side-to-side movements, and Football sides are higher to give lower leg support. These Shoes are heavier. Feet fly during high kicks, and the toe spike is a dangerous situation.
What Is Football Cleats?
Football boots, called Football Cleats, are a thing of footwear worn while playing affiliation football. Those intended for grass pitches have studs on the outsole to help grasp.
Difference Between Football and Baseball Cleats:
Football players and baseball players wear spikes to improve their grasp on the playing surface. Football and baseball spikes serve a similar capacity – to assist the player with remaining firm to the ground while permitting him to move rapidly and effectively abstain from stumbling or slipping.
Notwithstanding, even though their fundamental capacity is very similar, soccer spikes contrast with baseball spikes in numerous ways. Albeit the presentation of fake turf has diminished the distinctions, they exist in multiple ways.
The truth is that an extraordinary spike proves to be useful while playing baseball, yet it is missing in football models since all football players work with their feet and can hurt themselves and colleagues.
What's more, the sole generally has a break or break (offering exceptional help). Many boots that be helpful while playing baseball are furnished with metal spikes.
Whether you play football or baseball, these games' competitors have undeniable degrees of perseverance and need to give 1″10%" to a game without fail.
In such cases, the possibility of getting a harmed increment is the point at which the spikes become an integral factor. As they give steadiness to competitors, it's vital to learn something about Baseball vs. Football Cleats.
Measure:
As for baseball cleats, they usually have steel bars measuring about 3/4 inch wide and half an inch deep, and they are permanently attached to the bottom of the shoe.
Football cleats are athletic shoes with molded soles with large screw-in knobs to provide grip. Knobs are adjustable to suit field conditions.
read Next – Best Molded Baseball Cleats 2022
Material:
Baseball Cleats are made of metal. You can see the metal bolts in the high phases of the game. Baseball players can utilize metal spikes rather than plastic or elastic, yet not for soccer spikes; both can use shoes with plastic spikes. This is because of the variable idea of baseball fields, with some being substantially more challenging to work than others.
Football Cleats are made from rubber. When buying football Cleats, you can quickly feel the studs and recognize them.
Spikes:
In Baseball Cleats, along with the heels on the soles, you will find the Spike next to the toe of the shoe. This rod is shaped like a spike for precise grip.
Football Cleats have spikes in a bit of circle in the front, near the feet, and flatter. That's why there is no spike at the feet.
Read Next – Best Baseball Cleats for Shin Splints
Shape:
Baseball Cleats have studs that are slightly larger than football Cleats. The shapes are somewhat pointed, which may look like spikes. The state of the baseball spikes is extended, and from the top, they are like spikes since they need just steadiness from the shoes, and that's it.
In Football Cleats, the shape or pattern of the lugs is a bit rounder and rougher (or you could say blunt). The constitution permits them to kick the ball in the ideal bearing with the perfect proportion of force. The state of the football spikes is round and dull because they need to shoot the ball for scoring.
Function:
The spike on the toe is beneficial as it helps the player sprint quickly and changes direction while running through the bases.
Considering the need for low gravity, Football Cleats tend to provide high speed for players.
Read Next – Yaktrax PRO vs Walk Ice Cleats
Weight:
Baseball spikes are lighter and don't go up to the lower leg.
Soccer spikes are heavier and will generally be more agreeable because of the heavier actual burden put on competitors by the idea of the game and the gear.
They are additionally just about as high as the lower leg, albeit various styles oblige different individual inclinations.
Length:
While baseball cleats tend to be about the same length, soccer cleats offer a variety of sizes, primarily due to differences in position and the ability to handle different playing surfaces. Faster players often prefer lighter cleats, while stronger hitters and pitchers often choose more comfortable cleats.
In football, linemen opt for more comfortable cleats with ankle support, while running backs and wide receivers opt for cleats that allow for a better range of motion.
Final Words:
Before matches begin, football and baseball referees must inspect the Cleats of all players to ensure they are not breaking any rules of the sport.
By keeping the information we've learned from this article, you can determine that football players won't be given a free pass to wear baseball boots. Although, if the toe clips are removed, baseball shoes can be easily worn to play football.
Read Next – New Balance Men's 3000v4 Metal Baseball Shoe
What Pros Wear: Metal vs. Molded (Plastic) Baseball Cleats 
Read Next – Under Armour Men's Harper 4 Mid Rm Baseball Shoe